Mystery investor puts $1bn into new Russian gold mine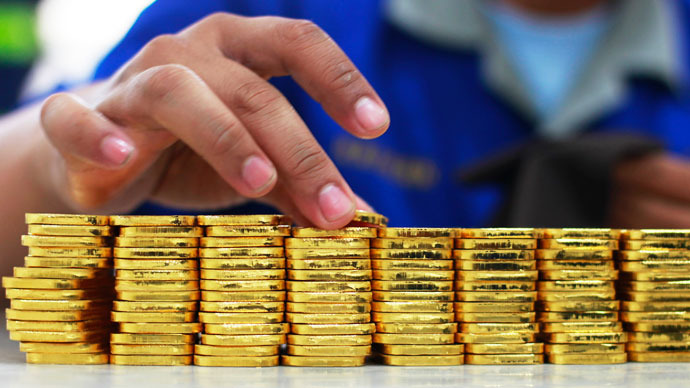 In an effort to double gold production by 2018, Russia's largest gold producer, Polyus, has attracted $1bn in investment for the 3rd largest undeveloped gold deposit in the world.
Russian Federation Deputy Minister for the Development of the Far East Dmitry Shelekhov confirmed the 32 million rouble investment, but would not disclose the source, ITAR-TASS reported.
The Natalka mine is the newest development from Polyus, and is located 400 km from the seaport of Magadan, in the remote and barren northeast corner of Russia.
The mining of precious metals is a lifeline for the local economy, Magadan Oblast Governor Vladimir Petcheny told ITAR-TASS.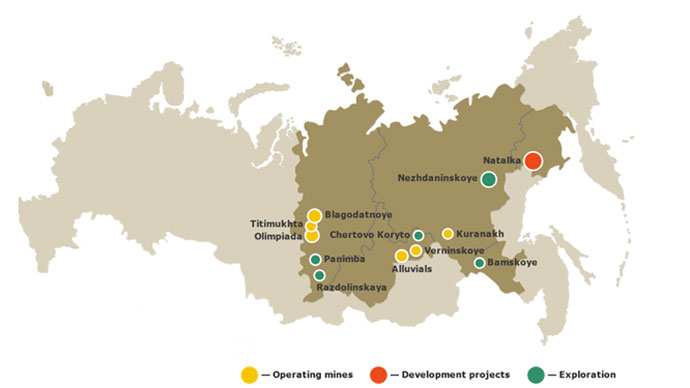 Polyus, which accounts for nearly a quarter of Russia's gold mining, forecast the mine, which is slated to become Russia's largest, will have the capacity of 15 tons (1.3 million ounces) by next year.
In total, the company has 1,836 tons (40.8 million ounces) in gold reserves, and is the world's third largest by this criterion.
Since 2009 gold production in the Far East and Russia has increased sharply, aided by a state-sponsored effort to boost gold production after a steep decline from 2000-2009. Gold production in the first quarter of 2013 increased 6% year-on-year to 320,000 ounces. Sales were estimated at $524 million, according to a company trading update from April 2013.
Also according to the report, gold production in 2013 has been reconfirmed between 1.59 and 1.68 million ounces, excluding assets in Kazakhstan.
Billionaire oligarch Mikhail Prokhorov is the Chairman of the Board, and approved the $31.3 million Natalka capital expenditure in 2008. The company said it would spend $14 million throughout May to install a 'pilot plant' and another $8.7 million to complete a feasibility study.
Refined Gold Production
Refined gold production, 000 oz Q1 2013 Q1 2012 Change Olimpiada 156.6 156.6 - Blagodatnoye 86.5 83.6 3% Titimukhta 34.0 21.8 56% Verninskoye 11.0 6.4 71% Alluvials 0.7 1.0 -30% Kuranakh 31.8 33.1 -4% Total refined gold production from continuing operations 320.5 302.4 6%
Chief Executive Yevgeny Ivanov told Reuters in January he expected the Natalka plant to be fully operational by 2012-2013, a launched which has been repeatedly postponed. In the second quarter of 2013, Polyus will review the option to start production at Natalka in winter 2013-2014.
Presently the pilot plant is equipped with mining equipment, drilling rigs, trucks, loaders, and cranes.
Two dormitories that sleep 275 were commissioned last year and were completed in the first quarter of 2013, and currently 1,400 personnel are employed, according to the company's website. By 2014, the plant will staff 2,000, and by 2023 upwards to 3,500.
On the New York Mercantile Exchange, June gold futures lost $13.3, down to $1,412 per troy ounce. Prices fell on the news of unemployment in Britain.
In April, the price of gold fell by 7.8%.
The company already operates many large-scale gold production operations near the Natalka mine (see map).
You can share this story on social media: