$560 billion wiped of Central Banks' reserves on gold slump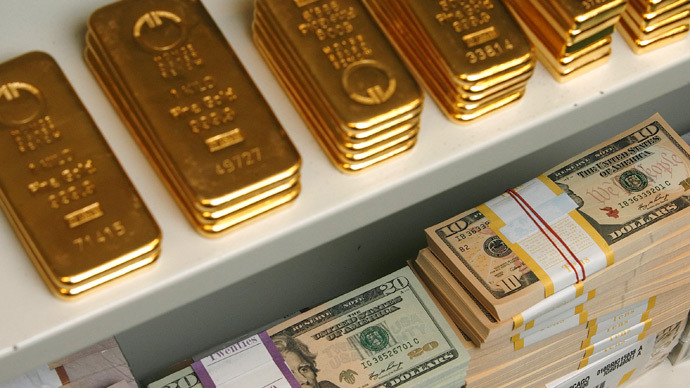 Gold slump has wiped $560 billion from the value of central bank reserves after its price dropped 13% in the last two days. Global investors are switching to equities in a bid to generate income.
Central banks own 19% of all gold mined (some 31,694.8 metric tons) and are among the major losers from the asset price slump, according the World Gold Council in London. Global investors have sold gold to reinvest in riskier assets such as equities, as gold is no longer seen as a sustainable hedge.
Many experts say the Western central banks have no one but themselves to blame. Many of them, led by the US Federal Reserve and the ECB contributed to falling gold prices in a bid to support their domestic currencies. 
Paul Craig Roberts, former Assistant Secretary of the US Treasury and associate editor of the Wall Street Journal, dubbed the Fed's recent action an "assault on gold". "The Fed is rigging the bullion market in order to protect the US dollar's exchange value, which is threatened by the Fed's quantitative easing," he wrote. 
On April 12, the Fed dumped 500 tons of naked shorts on the market, pulling dollars out of thin air and sending gold prices deep into the red, Dr. Paul Craig Roberts writes citing Andrew Maguire, an independent bullion trader and a whistleblower.
Other experts noted that ECB chief's statement that debt-burdened Eurozone economies, such as Cyprus would have to sell their gold reserves to keep their bailout programs afloat also triggered the bullion price decline. 
After a steady rally for 12 years gold reached a record mark of  $1,923.70 an ounce in September 2011. Growth in world's leading economies along with falling global inflation boosted equities market by $2.28 trillion in 2013 due to the traditional store of value, according to data compiled by Bloomberg. 
Investors have turned towards profit making assets, while gold was only useful as an instrument to fight inflation and brought no revenue. 
"There's a perception that risk has been lessened, and with that, investors are looking for assets that either generate income or have growth potential, neither of which gold has," a market strategist with LPL Financial Corp Anthony Valeri is quoted as saying by Bloomberg. "We've seen a grab for yield, and without a yield, gold has been left out."
Over the past decade Russia's Central Bank acquired 570 metric tonnes of gold emerging as the world's biggest gold buyer. Since 2000 when Russian gold reserve totaled 384 metric tons the state more than doubled it in 12 years. According to official data from World Gold Council, in October 2012 gold made up 9.6% of Russia's national forex reserve and stood at 936.7 metric tons.