RT stringer among 4 people taken hostage in besieged Ukraine's Donetsk – report
RT contributor Graham Phillips is among four people taken hostage by Ukrainian troops, ANNA news agency reports. He has been missing since he went to Donetsk airport with other freelance journalists who were reporting on firefights on Tuesday.
The other three people in the group are reportedly ANNA news agency's cameraman, an employee of the press service of the self-proclaimed Donetsk People's Republic, and possibly an acquaintance of Phillips, who accompanied the journalist to the airport.
"Our cameraman, Vadim, was working in the epicenter of the fighting, RT's stringer was next to him," ANNA news agency reported.
The agency cites anonymous sources, saying the group of four was taken hostage by Ukrainian troops.
Journalist Bryan MacDonald confirmed reports that Phillips is alive, but stressed that it will take a while to get him out due to the dangerous zone he is in.
"A source in the British government said that he is alive, and that is fantastic news, and everyone is very relieved of course. They say that he is being held by Kiev forces, but because the area is so dangerous it might take some time to be released," he told RT.
I can confirm (happily) that @GrahamWP_UK is alive. I can't give any more details right now. Thanks for your concern

— Bryan MacDonald (@27KHV) July 23, 2014
The Russian Foreign Ministry has demanded the immediate release of journalists working for RT and the ANNA news agency.
Britain's Foreign Office has informed RT in a letter that it is looking into what happened to Graham Phillips.
"We are aware of reports that a British National is missing in the Donetsk area of Ukraine," the letter reads. "We are looking into these. We stand ready to provide consular assistance."
The last time Phillips got in touch with Moscow was on the evening of Tuesday, July 22.
The stringer informed Moscow he was planning to go to Donetsk airport, currently the most active warzone in the regional center besieged by Kiev's troops and National Guard.
"We urged him not to go, because of the obvious risks, but based on the messages that appeared in social media a bit later, he decided to go there anyway, alongside another group of journalists," RT's statement maintains.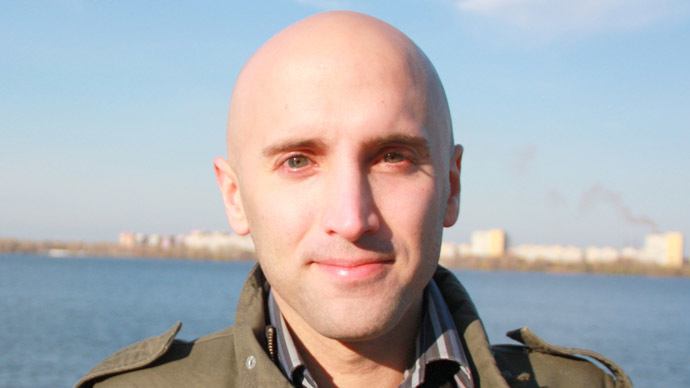 At around 2am in the morning, Phillips sent RT a text message saying "All is fine," and that was the last communication with him.
A free-lance journalist for a German magazine, who would not give his name for security reasons, says he accompanied Phillips to the airport, but at a certain point decided not to continue with the group, as he believed it was dangerous.
"They risked going further," the journalist told RT by phone. "They crossed the street in front of the airport three or four times. It was impossible not to spot them. We did not hear gunshots. They most probably later got caught up in an ambush."
The journalist says he later called Phillips on the phone. Vadim from the ANNA news agency responded.
"First question was: "Where's Graham?" Vadim replied: "They have Graham. Ukrainian troops are all around. Get me out of here."
Although the channel did not assign Graham to go to the Donetsk airport, RT editorial staff are doing everything within their powers, such as contacting representatives of the Donetsk People's Republic and Kiev authorities, to learn about his present whereabouts.
So far all efforts have been in vain.
Popular YouTuber and RT stringer, Graham Phillips was detained once at a check point in Mariupol and held captive by Kiev military for over 36 hours in May.
Filming for RT today, I speak with a family as they hide from Ukraine military shelling in their bomb shelter - https://t.co/NeIfSi7NRw)

— GrahamWPhillips (@GrahamWP_UK) July 22, 2014
Phillips has been reporting about the developments in Ukraine for several months now. According to research from Brandwatch social networks monitor, he has become the most popular author in Twitter reporting on the situation in Ukraine.
The Ukrainian Security and Defense Council says it doesn' have any information on Phillips' whereabouts.
'We have no information concerning this journalist," the Council's spokesman Andrey Lysenko said, as cited by RIA Novosti. He added that Ukrainian troops never detain journalists.
The claim is questionable, as Russian journalists have actually been captured by Kiev's forces throughout the conflict in eastern Ukraine.
In June, journalists from Russia's Zvezda TV channel spent two days in captivity, after being detained by the Ukrainian National Guard.
In May, two LifeNews journalists were taken hostage by the National Guard, prompting an online #SaveOurGuys campaign.
You can share this story on social media: