France hits back after UK condemns Russia Mistral ship deal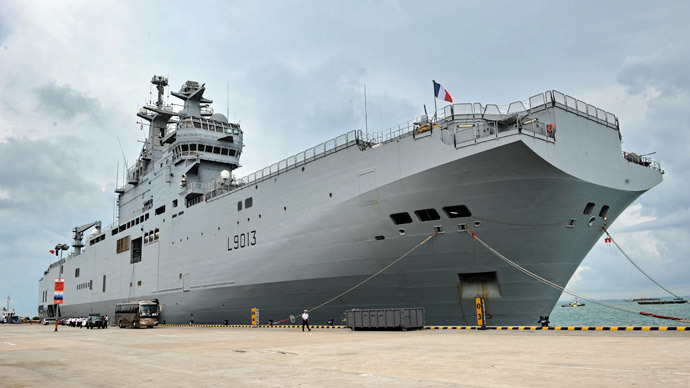 France's foreign minister has accused the UK of double standards following its criticism of the Russian Mistral warship deal. Referring to Russian oligarchs in the UK, he said that Britain must tend to its own backyard before attacking French policies.
Following the Malaysia Airlines plane crash in Ukraine, British Prime Minister David Cameron criticized Paris for its plan to go ahead with the delivery of Mistral helicopter carriers to Russia. Cameron stressed that the move would be "unthinkable" in Britain.
"The English in particular were very pleasant so to speak saying we would never do that, but I told my dear British friends let's talk about the financial sector," French Foreign Minister Laurent Fabius told TF1 television after a meeting of European foreign ministers in Brussels.
"I am led to believe that there are quite a few Russian oligarchs in London," he added, as quoted by Reuters.
When asked whether he meant that the UK must first address its own business, Fabius replied: "Exactly."
On Monday, French President Francois Hollande said the plan to deliver the Mistral helicopter carriers to Russia would go forward, despite calls from the US and UK. The first ship is nearly completed and will be presented in October.
"The Russians have paid. Should we repay 1.1 billion euros if the boat was not delivered to the purchaser?" he asked while speaking to reporters late on Monday – the night before an EU foreign ministers meeting in Brussels to discuss tougher sanctions on Moscow over the Ukrainian crisis.
"For the time being, a level of sanctions has not been decided on that would prevent this delivery," he said. "The contract was signed in 2011, the boat is almost finished and should be delivered in October."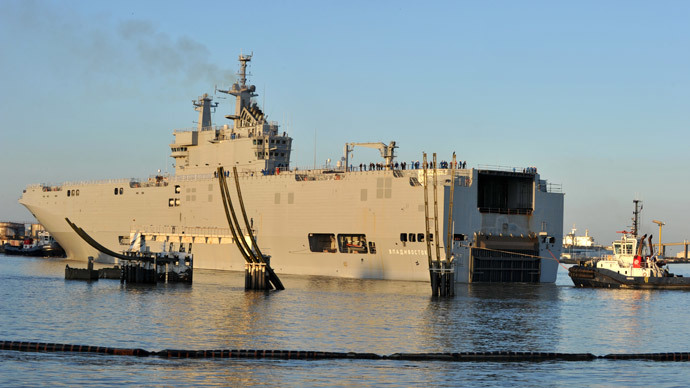 France will be the first NATO country to supply Russia with military equipment. Under the 1.2 billion euro contract (US$1.6 billion) signed by Russian defense exporting company Rosoboronexport and French DCNS in June 2011, Russia is to receive two Mistral-class helicopter carriers.
The head of Hollande's ruling Socialist Party, Jean-Christophe Cambadélis, told iTélé television on Tuesday that "Hollande is not backing down."
"He is delivering the first (ship) despite the fact he is being asked not to...This is a false debate led by hypocrites...When you see how many (Russian) oligarchs have sought refuge in London, David Cameron should start by cleaning up his own backyard," he continued.
US President Barack Obama expressed concern in June about France continuing significant defense deals with Moscow, following Crimea's accession to Russia in March. He said that it "would have been preferable to press the pause button" on the deal.
On Monday, a senior US administration official reiterated that Washington has not changed its stance and continues to oppose the deliveries.
However, it is not yet clear whether France will go through with the delivery of the second ship, which is planned for the end of next year.
"Does that mean that the rest of the contract - the second Mistral - can be carried through? That depends on Russia's attitude," Hollande said on Monday evening.
You can share this story on social media: