France to deliver Mistral warship to Russia despite US, UK criticism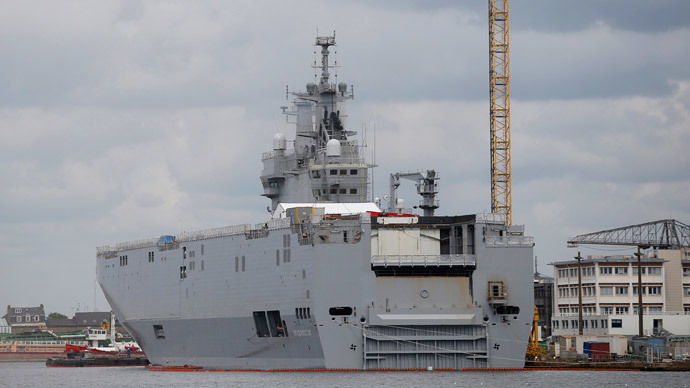 France will go ahead with the delivery of the first Mistral warship to Russia – despite protests by the US and UK, prompted by Moscow's stance in the Ukrainian crisis. The ship is nearly completed and will be presented in October.
French President Francois Hollande said the plan to deliver the two Mistral helicopter carriers was made in Paris and will go forward despite calls from the US and UK.

"The Russians have paid. Should we repay 1.1 billion euros if the boat was not delivered to the purchaser?" he asked while speaking to reporters late on Monday – the night before EU foreign ministers are to meet in Brussels to discuss tougher sanctions on Russia over the Ukrainian crisis.

"For the time being, a level of sanctions has not been decided on that would prevent this delivery," he said. "The contract was signed in 2011, the boat is almost finished and should be delivered in October."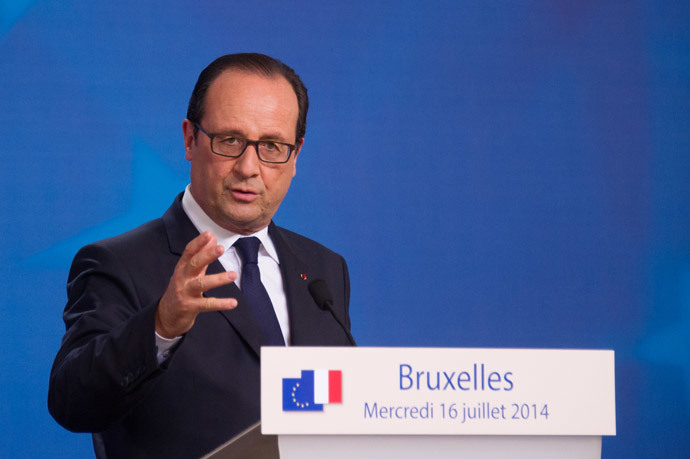 On Tuesday, Russian President Vladimir Putin signed a law exempting the deliveries of France's Mistral-class helicopter carriers to Russia from value-added tax (VAT) payments, which will be in effect from July 1, 2014 to June 30, 2016. The law was adopted to prevent an increase in the cost of the contract regarding the Mistral ship deliveries.

France will be the first NATO country to supply Russia with military equipment. Under the 1.2 billion euro contract (US$1.6 billion) signed by Russian defnse exporting company Rosoboronexport and French DCNS in June 2011, Russia is to receive two Mistral-class helicopter carriers. The first one, the Vladivostok, will be received in October. The second, the Sevastopol, will be delivered at the end of next year.
'French officials say Paris must keep its word'
Hollande's decision has found support among French officials, despite going against the wishes of the US and UK.

British Prime Minister David Cameron said on Monday that the order is "unthinkable," calling for tougher sanctions and to halt all arms sales to Russia.

"Hollande is not backing down. He is delivering the first (ship) despite the fact he is being asked not to," Jean-Christophe Cambadélis, head of Hollande's ruling Socialist Party, told iTélé television on Tuesday.

"This is a false debate led by hypocrites...When you see how many (Russian) oligarchs have sought refuge in London, David Cameron should start by cleaning up his own backyard," he continued.
Mistral-type helicopter carriers have a displacement of 21 tons, a body length of 200 meters, a speed of 18.8 knots, and a capacity of 59 vehicles (including 13 AMX-56 Leclerc tanks) or a 40-strong Leclerc tank battalion. It can carry a fleet of 16 heavy or 35 light helicopters and has six helicopter landing pads. The carrier's crew is 170 and it can take 450 people on board.

US President Barack Obama expressed concern in June about France continuing significant defense deals with Moscow, following Crimea's accession to Russia in March. He said that it "would have been preferable to press the pause button" on the deal.

On Monday, a senior US administration official reiterated that Washington has not changed its stance and continues to oppose the deliveries.

Meanwhile, French officials insist that Paris must keep its word.

"France's word, its signature, must be respected," Xavier Bertrand, a former minister under Sarkozy and senior member of his conservative opposition UMP party, told France Inter radio. "Just because the Americans say 'jump' we shouldn't jump."

However, it is not yet clear whether France will go through with the delivery of the second ship, which is planned for the end of next year.

"Does that mean that the rest of the contract - the second Mistral - can be carried through? That depends on Russia's attitude," Hollande said on Monday evening.

Meanwhile, EU leaders on Tuesday decided to impose further sanctions on Russia in the wake of the Malaysia Airlines civilian plane crash on July 17 over eastern Ukraine. The EU and US blame local militia forces supported by Moscow for downing the plane – though they have provided no evidence to support their claims.
Read more: Malaysia Airlines MH17 plane crash in Ukraine LIVE UPDATES
Dutch Foreign Minister Frans Timmermans said the EU's "forceful decision" imposes visa bans and asset freezes on more officials that are connected with Russia's actions in Ukraine. Timmermans has not named the officials yet.

EU foreign policy chief Catherine Ashton said an extended 'black list' will be published on Thursday. It will include the energy and defense sectors, as well as financial markets.

Russian Deputy Prime Minister Dmitry Rogozin believes it is very unlikely that France would break the Mistral contract because of the sanctions.

"Billions of euros are involved. The French are very pragmatic," Rogozin said on Monday. "I doubt it [that they will break the contract]."

He noted that if France decides to suspend the contract, it will be "much less harmful for Russia than it would be for France."

Russia will not only demand its "money back but also the sterns (link) that were made in Russia. They will have to disassemble them," Rogozin said.
You can share this story on social media: