41 Homer Simpson tattoos: New Zealander sets world record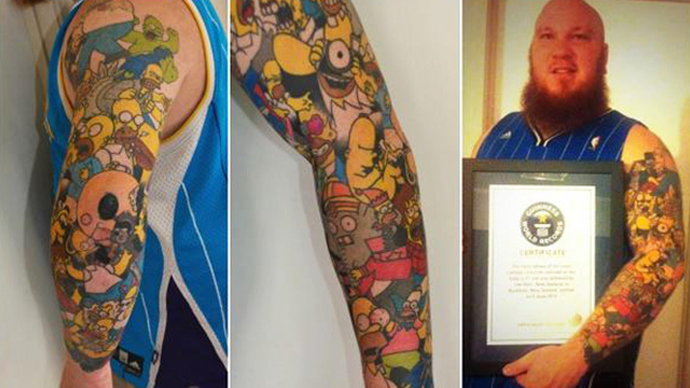 Just how many Homer Simpson tattoos should a devoted fan have? Lee Weir has covered himself in 41 and this is a world record. When you forbid your kid watch their favorite cartoon, just remember Weir and his parent's ban.
The 27-year old from Auckland New Zealand says he was not allowed to watch the popular sitcom because his father, whom he calls a real life Ned Flanders, would not let him watch the series. Bart's dad was depicted as a buffoon, Lee's father would argue.
"I was never allowed to watch The Simpsons growing up... But I've always enjoyed watching the show in later life and it feels incredible to be a record breaker," said the university student, who is himself a father of one.
The Homer sleeve, as he calls it, took more than 25 hours to finish and was done by a close friend and tattoo artist Ben Jenkins. He managed to pay for the tattoos by abstaining from booze for a year.
Last Fridays session. #somanyhomers#colouryoubeautypic.twitter.com/izysUTa2Tl

— Lee Weir (@LeeWeird) May 30, 2013
Weir had to provide dermatologist reports to Guinness World Records to prove they were real, and he was announced as a record holder on June 5:
"The most tattoos of the same cartoon character tattooed on the body is 41 and was achieved by Lee Weir (New Zealand) in Auckland, New Zealand, verified on 5 June 2014," his entry now proudly reads.
+ A west Auckland man is now the holder of one of the more obscure #GuinessWorldRecords. @davidfarrier with the story pic.twitter.com/MPiNQVmaAj

— The Paul Henry Show (@PaulHenryShow) July 21, 2014
You have the most impressive sleeve of all time! Seriously! @LeeWeird

— Richard Recinos (@RecinosRichard) July 21, 2014