Kim Dotcom's Mega blocked in Italy for 'promoting piracy'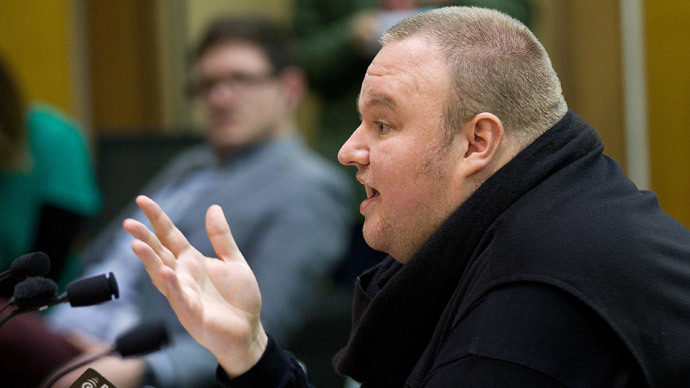 The Megaupload founder's new project Mega has been banned by an Italian court for promoting distribution of pirated movies. The hosting service is among the 24 blocked websites together with Russia's largest email provider Mail.ru.
Court of Rome Judge Constantino De Robbio, ordered all Italian providers to restrict access to two dozen domains on Friday, Corriere Della Sera reported.

A large-scale blockade came at the request of a small local independent movie distributor, Eyemoon Pictures.

The company claimed that the websites in question distributed two of its movies – "The Congress" and "Fruitvale Station" – ahead of their release in Italian cinemas.

Mega already said that they're going to appeal against the Court of Rome ban, which the company considers "illegal".

"The blocking order was placed on the basis of a complaint by a small distributor for two films and the effect of the total block is obviously disproportionate," Stephen Hall, Mega CEO, told TorrentFreak website.
The list of domains blocked by Roma's Court:

cineblog01.net, cineblog01.tv, ddlstorage.com, divxstage.eu, easybytez.com, filminstreaming.eu, filmstream.info, firedrive.com, mail.ru, mega.co.nz, movshare.sx, nowdownload.ag, nowdownload.sx, nowvideo.sx, piratestreaming.net, primeshare.tv, putlocker.com, rapidvideo.tv, sockshare.com, uploadable.ch, uploadinc.com, video.tt , videopremium.me and youwatch.org.
The ban was an excessive measure as infringing files could've been easily removed through a compliant takedown process employed by Mega, he explained.

Hall also stressed that the block can be bypassed without any problems by using Google DNS or any other non-ISP DNS provider.

However, Mega CEO added that the website "is taking steps to ensure that our Italian customers regain access to their files without first having to fiddle with their nameserver settings by filing an appeal next week."
Meanwhile, the Italian media has labeled the decision to add Mail.ru to the list of banned sites as "bizarre."

"It's the same as if Russia block access to Virgilio or Libero.it (Italian language news websites)," Corriere Della Sera paper wrote.

There were no comments from Mail.ru administration on the decision by the Italian judges.

Mega's decision to appeal against the ban was welcomed by Fulvio Sarzana, a lawyer specialized in Internet and copyright disputes.

"I see website blocking through DNS and IP-address as a form of censorship. The block can't distinguish between licit and illicit files. It's like using a broad-spectrum bomb to hit only one person, the collateral damage is very obvious," he told TorrentFreak.

In another interview with Corriere Della Sera Sarzana stressed that Friday's ban "once again highlighted the futility" of Italian copyright regulations.

The lawyer reminded that there's a history of successful appeals by websites against blocks by the courts in Italy.

Earlier this year, Roma's Court of Appeals recalled a blocking order against Filmakerz.org video streaming website for being too broad.

Back then, the judges stressed that partial blocking of a specific URL is preferred to site-wide bans.