15 civilians killed and 53 injured in Lugansk shelling
At least 15 have been killed and 53 wounded as the city of Lugansk has come under shelling attack. The city's center and civilian areas have been targeted leaving areas in ruins.
"Today intense bombardment of Lugansk has continued. Shells are falling in almost all districts of the city," the administration said in a statement.
Later on Friday, the Health Ministry of the Lugansk People's Republic confirmed that 15 people were killed in the shelling and another 53 were injured.
WARNING: Graphic video shows covered bodies – victims of the shelling in Lugansk
The statement posted on the administration's website said shells targeted the city center, major streets, the railway station and a market.
Lugansk residents reported a shell falling close to a church, killing one person. They said the city was attacked by Ukrainian army's rockets fired from a military jet.
"Self-defense forces fired at [the aircraft] from manpads [man-portable air defence systems], but we don't know if they hit it or not," some locals were cited as saying by ITAR-TASS.
The Lisichansk Oil Refinery, property of the Russian oil company Rosneft - recently sanctioned by the US - has also been attacked and set on fire.
The opposition claims the refinery was targeted by Ukrainian army from Grad multiple rocket launcher system.
Locals reports that the refinery, targeted in the early hours of Friday, is still ablaze.
The artillery shelling that started overnight has left "85 percent of Lugansk" without electricity. Residents have no tap water as local pumping stations were shut down.
It is likely that electrify will only be restored when shelling stops, City Hall said. Due to continuing shelling, repairmen can't reach the station where power was disrupted.
Local media reports also say that there is no mobile connection, internet or television.
So far Kiev's forces have failed to enter Lugansk, but constant shelling of living quarters claim the lives of civilians on a daily basis.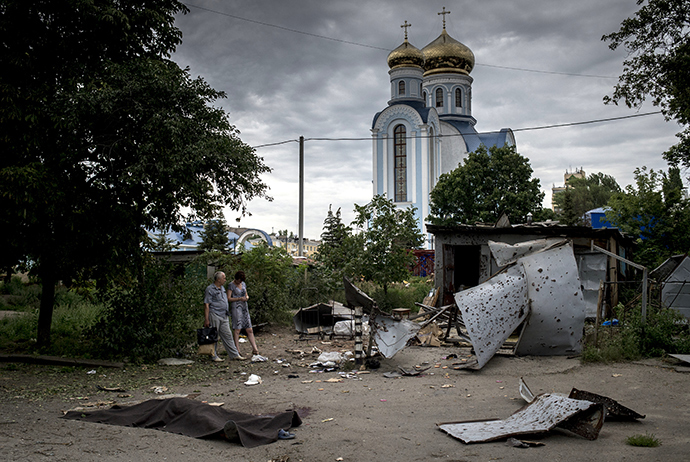 The Lugansk city administration has issued a statement estimating the number of killed and injured "recently." While the statement points out that the data does not include the July 18 shelling, it does not specify the dates on which the statistics were collected.
According to the statement, 44 people have been killed, including one child, and 215 wounded, including four children.
Fighting continues to the north of the city, in the village of Metallist, 10km from Lugansk, and in the west, in Yubileynoye settlement.
According to ITAR-TASS, self-defense forces claim they have managed to push back Kiev troops in Metallist.
One of the shells has almost hit a local administration headquarters, falling some 200 meters from it, Russian LifeNews channel reported. It also said that another shell struck a civilian house which was completely destroyed. The owner was hospitalized.