Obama's ratings tumble in Germany, Russia in wake of NSA spying, Ukraine crisis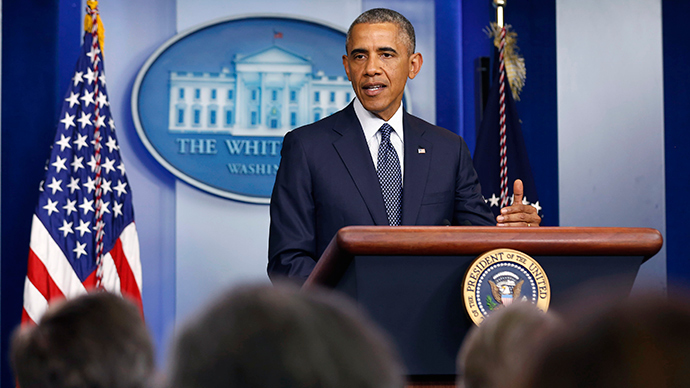 Revelations of the National Security Agency's global spy program, together with civil strife in Ukraine has severely damaged Barack Obama's popularity among Brazilians, Germans and Russians, a major US polling agency reported.
Thanks to a series of global scandals, the United States in general, and its commander-in-chief in particular, have suffered a drop in favorability among the majority of countries polled by Pew Research.
"In 22 of 36 countries surveyed in both 2013 and 2014, people are significantly less likely to believe the US government respects the personal freedoms of its citizens," the report said.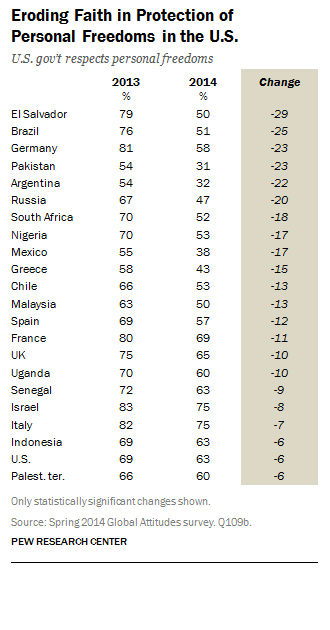 Among privacy-loving Germans - many of whom have even refused to allow the Google Maps car to film their homes - Obama's reputation nosedived when it was revealed that the NSA was collecting communication metadata not only on average Germans, but also on Chancellor Angela Merkel, whose personal mobile phone had been hacked by US intelligence.
Germans' confidence in Obama sunk to 71 percent, 17 points down from 2013.

Tensions between NATO's two biggest members escalated this month German authorities arrested a Defense Ministry official suspected of passing secrets to the US. This shocking incident came just one week after the arrest of a German intelligence officer who worked as a double agent for the Americans.

German authorities took the unprecedented step of ordering the expulsion of the Berlin CIA station chief.

"Revelations that Washington systematically reads both Americans' and some foreigners' emails and listens in on their telephone conversations appears to have significantly damaged Obama's approval in only one European Union country: Germany," Pew reported.

Brazilians' confidence in the first black American leader dropped from 69 percent in 2013 to 52 percent presently.
Brazilian President Dilma Rousseff, who was also the victim of NSA snooping on her personal communications, expressed her anger at those revelations by canceling an official visit to Washington in October.

Finally, Russia, which is watching neighboring Ukraine teeter on the edge of full-blown civil war, sees an American hand provoking the situation behind the scenes, especially after former Ukrainian President Viktor Yanukovich decided against signing as association agreement with the European Union in favor of stronger ties with Moscow.

The decision by sparked a violent showdown in the capital Kiev, which has led to nationwide civil strife that continues today.

"Russian faith in Obama, already quite low in 2013, is down 14 points (to 15 percent), a likely casualty of the Ukraine confrontation," Pew said.
Here's our new global survey á la carte: use our interactive map to surf public opinion around the world http://t.co/WIGbAjI80W

— Pew Research Center (@pewresearch) July 14, 2014
Meanwhile, America's once invincible reputation for protecting individual liberties has suffered a major reality check following damning revelations about the extent of NSA surveillance from whistleblower Edward Snowden, presently living in Russia, where he has been granted asylum.

Belief that the US government respects personal freedoms plummeted 25 points in Brazil to 50 percent over the last year; 23 points in Germany to 58 percent; 20 points to 40 percent in Russia; and 11 points to 69 percent in France. Meanwhile, even the United Kingdom, a trusted ally, appears to have experienced a chilling effect by America's recent naughtiness, dropping 10 points to 65 percent.
Germany expels Berlin CIA chief
US drone strikes have also struck a negative chord among allies and enemies alike, including in NATO member states like Britain, France and Spain. In 37 of 44 surveyed countries, half or more of the public expressed disapproval of drone attacks.
You can share this story on social media: