India could return to Mars as early as 2017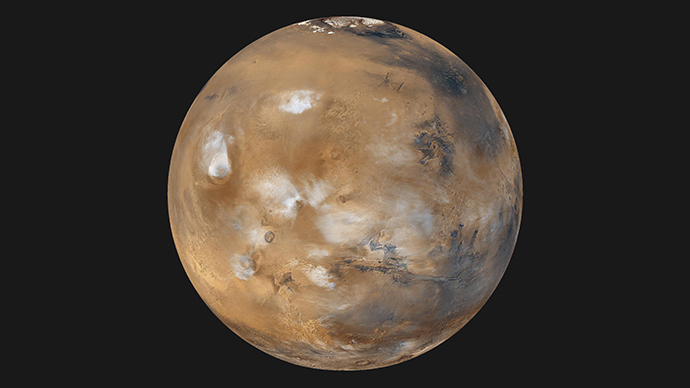 India is ramping up for a follow-up mission to Mars between 2017 and 2020 which will be scientific in scope, the chairman for the Indian Space Research Organisation (ISRO) has said.
The final decision will be hammered out after the Mars Orbiter Mission (MOM) attempts to enter the orbit of the Red planet on September 24, ISRO chairman Isro K Radhakrishnan said on Thursday, the Times of India reports.
On November 5, India launched the MOM or 'Mangalyaan' in a bid to become only the fourth country or union in history to successfully launch a mission to Mars, following successful trips by the Soviet Union, the United States and the European Space Agency.
Radhakrishnan said the ongoing MOM had completed 79 percent of its journey. The planned September orbit insertion, which will see the apogee kick motor restarted after 300 days in a bid to change the craft's momentum, could prove a landmark moment in the country's history.
"If we are successful in the first attempt we will be the first country in the world to accomplish it and also the first Asian country to achieve it," the Times of India cites Radhakrishnan as saying.
Mangalyaan is carrying equipment that will enable it to perform nearly half-a-dozen scientific experiments during its four-month orbit of the planet. One such experiment will be to check for the presence of methane, a sign that Mars may once have supported life.
The cost of the satellite however is quite small relative to other similar missions, clocking in at around $73 million – less than your average Hollywood blockbuster. The primary goal of the launch is to showcase rocket technology India has developed, rather than to study Mars.
Newly-elected Prime Minister Narendra Modi hopes to make India the world's first low-cost supplier of space technology, saying the IRSO put them in an "elite global group of five-six countries today."
Modi's comments followed the June 2014 launch of five foreign satellites by the PSLV (Polar Satellite Launch Vehicle).
India has thus far launched 40 satellites for 19 countries, many of them advanced nations.