Moscow: Kiev allegations that Russian jet downed Ukraine plane absurd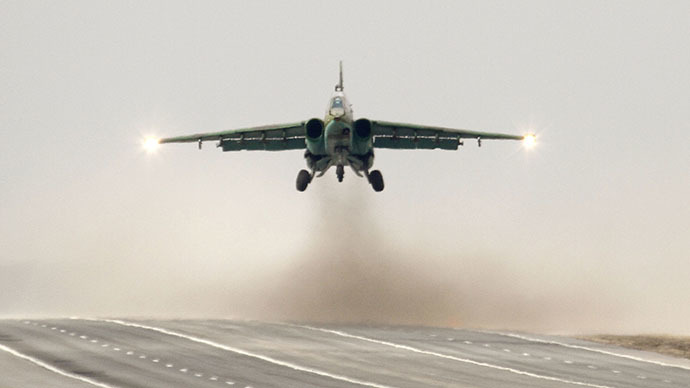 Kiev's accusations that Russia shot down a Ukrainian Su-25 fighter jet are "absurd," the Russian Ministry of Defense said.
"This is absurd, like all previous accusations from Kiev officials concerning Russia's Ministry of Defense," a ministerial official told journalists on Thursday.
Kiev has accused Russia of downing its Su-25 fighter jet on June 16. Andrey Lysenko, spokesman of the Ukrainian National Security and Defense Council, said a Russian military jet shot down a plane that was fulfilling a military operation over the east of Ukraine at 19:00 local time. Earlier Kiev blamed the attack on self-defense forces.
On Wednesday, self-defense forces claimed they had shot down two of the Ukrainian Air Force Su-25 fighter jets.
The high-ranked Defense Ministry official said that "almost every day" Russia "gets exposed" and receives threats that "irrefutable evidence" will be released, but every time "this evidence disappears somewhere."
"And the confusion is being covered with new, more fantastic accusations," he added.
The Russian official, whose name was not disclosed, criticized Ukraine's military management for lacking understanding and experience.
"You don't need to be an expert to understand, after looking at bios of [Ukraine's] current military management, and especially the 'anti-terrorist operation', that these people do not have either military education or practical experience of organized planning and use of troops and weapons," he said.
Russia's Security Council also issued a statement of Thursday saying that Moscow is not interested in war with its "brotherly nation."
"We don't want war with Ukraine. For us, that would be counterproductive because in that case we would be fighting a brotherly people," Evgeny Lukyanov, deputy secretary of the body that advises President Vladimir Putin on security told RIA Novosti.

"War with Ukraine is not in our interest. It is our border, our family relations and our economic ties. It is a big problem for us and we don't see any way out other than a political one."
The Security Council said a war in eastern Ukraine entered a "stage of ethnic cleansing," referring to the Russian-speaking population in the region.
"There is not a civil war in Ukraine, but an ethnic cleansing of the Russian-speaking population of the southeast of this country," Lukyanov said.
On Thursday, another Ukrainian plane has been reportedly shot down in eastern Ukraine.

"About 4pm local time [13:00 GMT] an An-26 was flying over the city. We saw a rocket hitting it, there was an explosion, the jet started falling leaving a black spoke behind," a resident told RIA Novosti.
You can share this story on social media: