'Weapon Fortress': Biggest arms store to open in Denmark
Published time: 17 Jul, 2014 12:29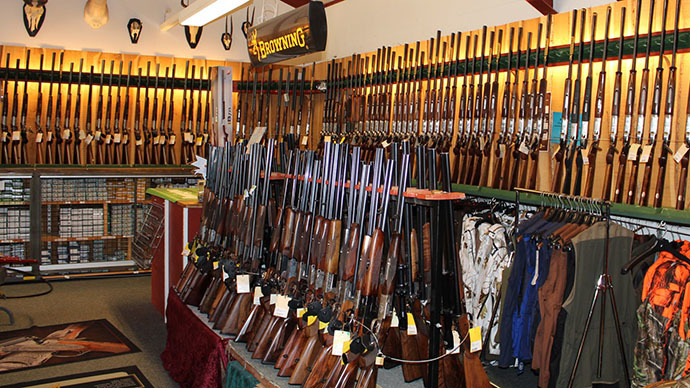 The biggest arms shop in Europe will soon open its door in a Danish city. The owners of the 'Weapon Fortress' claim the store offering various types of guns, rifles and ammunition will be a mecca for enthusiasts.
The 5,000-square-meter Ostysk Vabenhandel shop was built in the town of Hedensted, in central Jutland Peninsula.
The store is to be nearly twice as big as Europe's current largest weapon shop, in Germany.
"It is built to the maximum limit in relation to what the local planning codes allow," co-owner Kenneth Pedersen told Ekstra Bladet newspaper as cited by the Local. "We have an additional 2,500 square meters on the upper level that we can't use. If we could, we would have definitely used that too."
The store will also have hunting expedition company and a taxidermist.
The shop, scheduled to open on July 31, will serve as a mecca for weapons enthusiasts from around the world, believes Pedersen.
"The influx of new hunters has been increasing over the past many, many years," he said.
To secure the shop guns and ammunition from thieves the shop owners have taken extraordinary security measures. The shop was built "like a fortress," Knud Nielsen, the store's security chief, told Danmarks Radio as cited by the Local.
"The security rules are very comprehensive for a shop like this," he added, "It's some of the highest security you can get. Some of the requirements are the same as bank vaults"
Among the security precautions are steel wires with padlocks through each display gun's trigger, and the placement of inventory weapons and ammunition in locked safes. The shop will be also equipped with bulletproof-glass windows, Nielen added.
"We have video surveillance outside and a direct line to police," Nielsen said. "It's not like other places where thieves could just take their car and drive into the building like a battering ram. It can't be done."
In Denmark the right to hunt belongs to the landowner, who can lease this to third parties for a maximum of 30 years, according to the National Hunting Act. Not all types of hunting are allowed in the country. For example, falconry, hunting with hounds and trapping are forbidden.
Those who are planning to go hunting in the Scandinavian country first to apply for a temporary license. Danish interest in the activity is growing steadily all the time.