Floating the 'Pussy Boat': Japanese artist's vaginal works create uproar (PHOTO, VIDEO)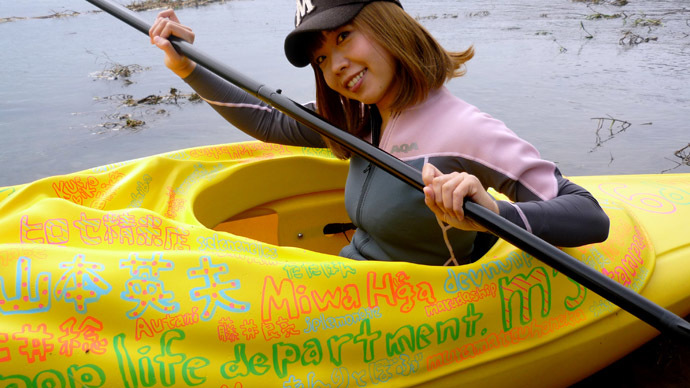 Celebrating vaginas could get you in big trouble in Japan. But an artist arrested for a taboo-bending explosion in vaginal art modeled on her own genitalia has the public on her side, lashing out at the country's alleged hypocrisy.
A 3D-modeled 'pussy boat', a 'pussy remote-controlled car', various dioramas, lampshades, iPhone covers and other vaginal art have exploded from the imagination of the 42-year-old artist, who chose to take on Japanese taboos and is now facing possible jail time and a hefty fine.
Rokudenashiko, the 'Good-for-Nothing Girl', (real name Megumi Igarashi) allegedly broke Japanese obscenity laws by promoting her vaginal art, which reached new peaks when she took a ride in her very own 'pussy boat', a kayak made out of a 3D cast of her vagina.
She was finally arrested on Saturday, according to Japanese media, after 30 of her fans received computer data with the schematics to her vagina, following a crowdfunding campaign to raise money for the boat.
Already people are speaking out in protest at what could soon be Igarashi's fate: a $25,000 fine and two years in jail. There is even a Change.org campaign. Fans and activists, like Igarashi, believe that the images she distributed are not of an obscene nature, and therefore, the 1 million yen she received, according to police sources, should not be viewed as an illegal venture.
With 3D-printing still an expensive undertaking, Igarashi went online with her art to raise money for the 'pussy boat.'
She amicably addresses visitors to the fundraising website with an appeal that explains how "I make art pieces with a mold of my pussy." Of the many pieces of art Igarashi put on display, there are even dioramas depicting various scenes which she thought would be "funny to decorate." One shows the nuclear cleanup scene at the battered Fukushima Daiichi nuclear power plant.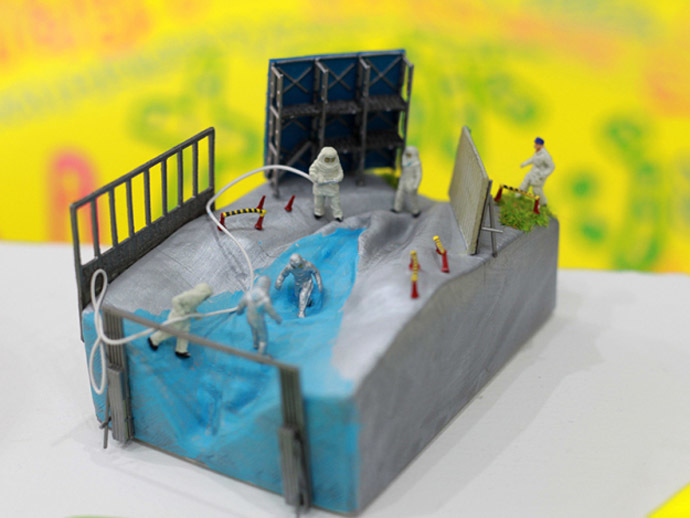 "But I was very surprised to see how people get upset to see my works or even to hear me say 'Manko'," she goes on. "Even when a TV station asked me to be on their show, they wouldn't dare to let me say DECO-MAN because 'MAN' is from the taboo word 'Manko'," the artist said, explaining the wordplay involved in the nickname she gave her vagina.
The seriousness of her mission with this project isn't immediately visible to the viewer. Igarashi is worried about a number of things that sets Japan apart from other nations.
"Why did I start making this kind of art pieces? That was because I had not seen pussy of others and worried too much about mine. I did not know what a pussy should look like at the same time I thought mine is just abnormal. Manko, pussy, has been such a taboo in the Japanese society," she says.
"Penis, on the other hand, has been used in illustrations and signed as a part of pop culture…[but] Pussy has been thought to be obscene because it' been overly hidden although it is just a part of women's body. I wanted to make pussy more casual and pop. That's how I came to make a pussy lampshade, a remote-controlled pussy car, a pussy accessory, a pussy smartphone case, and so on."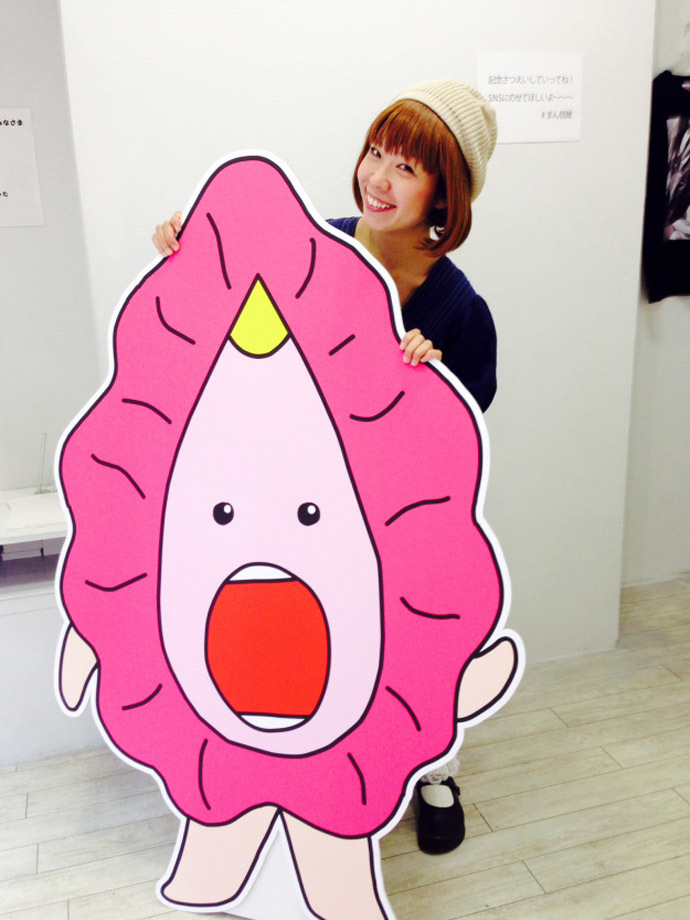 She then tells people that their support alone will determine how far the project goes. She even invites them to take a ride on her vaginal boat and promises to broadcast the printing as an art performance.
Reuters spoke to Igarashi through a plastic security divide in her central Tokyo holding cell. She recounted how surprising it was that 10 officers had showed up at her house on Saturday to take her away. She initially thought they'd come to confiscate some of her art.
"I couldn't stop myself from laughing a little as I explained to the grim-looking officers, 'This is the Lady Gaga 'manko' figure'," the 'good-for-nothing girl' told the agency.
"I did not expect to get arrested at all. Even as they were confiscating my works, I thought to myself, 'This will be a good story'. Then they handcuffed and arrested me. Now, I just feel outraged."
While critics are attacking her initiative, Igarashi's supporters continue to view her arrest as hypocritical, especially after a recent ruling that it is after all OK to display pornographic material of children in manga comics and adult anime films. A lot of this material involves molestation by tentacle alien species and other gruesome sexual fantasy scenarios, which have become a staple of the Japanese relationship with pornography.
A further problem experienced in Japan, according to Igarashi's defense, is that the definition of obscenity is quite vague. This has the potential of becoming a more sensitive issue when an artist touches on both at once, taboo and the freedom of artistic expression.
Igarashi isn't losing hope, despite the knowledge that the legal battle awaiting her will be a difficult one. She is already planning to write about her experience behind bars. On a recent visit by friends, she asked for her manga book of essays on vaginal art to give to her cell mate.
You can share this story on social media: