​Caught on dashcam: Douchebag driver runs over elderly man, checks for damage after skills remark (VIDEO)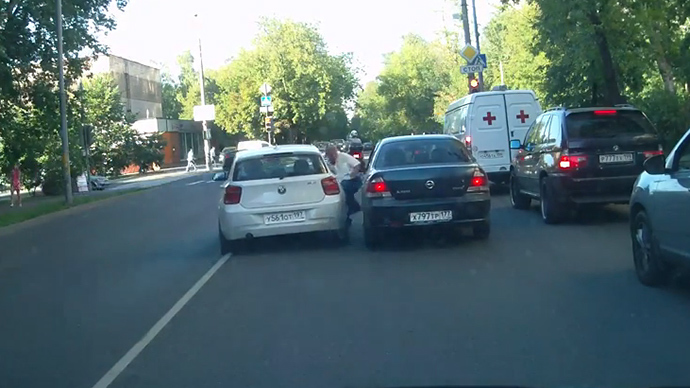 Apparently outraged by a verbal reproach of his driving habits, a young man deliberately ran over an elderly driver who dared to criticize him. The shocking footage was leaked unto YouTube which led to criminal charges against the enraged motorist.
Recorded by a dashcam of one of the witnesses of the road clash, the disturbing footage shows a number of cars moving through one of the Moscow's streets. The date stamp on the footage shows the incident took place on Monday, around 15:53 GMT.
As the traffic halted on a red light, an elderly man got out of the vehicle and approached a car that was tagging behind him for some time and even tried to perform a rightside passing at a previous intersection.
After apparent brief verbal exchange, as the elderly man was trying to get back into his Nissan Almera, the driver of BMW 116 with whom the verbal conflict took place, blatantly runs him over – pinning the Nissan driver against his own car in broad daylight.
What is more shocking, is that he just left the scene of the accident, but not before getting out of his white BMW to check for damage to his car. Witnesses had to rush in to aid the injured man, who was taken to hospital.
Moscow's police confirmed the incident to RT, but refused to provide details. The man who turned in the recorded footage of the accident to the authorities said that the BMW driver has been identified and is now being considered a fugitive.