Russian comedian's pitch invasion at World Cup final goes viral on YouTube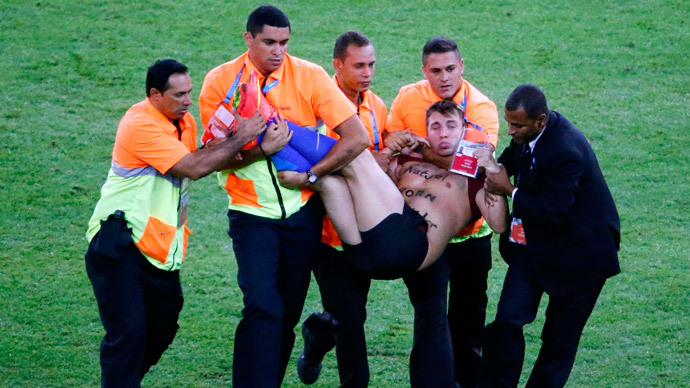 A Russian prankster stunned social media across the globe on Sunday night as he ran on to the pitch as Germany was playing Argentina in the World Cup final in Rio de Janeiro. His popularity soared, with his YouTube page soaring to over 6 million hits.
Vitaly Zdorovetskiy, who has some 1.5 million fans on Facebook and 200,000 followers on Twitter, could be seen blowing kisses at the crowd and running toward the players.
The incident happened in the second half of the game at the Maracana Stadium, when the the two teams level at 0-0. Germany eventually won the match 1-0 in extra time.
Another day another prank.. pic.twitter.com/hdkdWNpHk5

— Vitaly Zdorovetskiy (@Vitalyzdtv) July 14, 2014
In the stunt, Zdorovetskiy removed his red T-shirt to reveal the words "natural born prankster" written in English on his chest. He made a beeline towards defender Benedikt Howedes, whom he tried to kiss. The shocked German looked rather nonplussed.
LOOOL @Vitalyzdtvpic.twitter.com/29AvxdJVOd

— Habiba Da Silva (@HabibaDaSilva) July 13, 2014
However, around 1 billion TV viewers across the world were left in the dark about what had happened, as the host broadcaster immediately cut away to a picture of Christ the Redeemer set against the sunset. This is common when people invade pitches in order not to give them extra publicity and encourage more people to do the same.
See you guys tomorrow on Tv Germany vs Argentina

— Vitaly Zdorovetskiy (@Vitalyzdtv) July 12, 2014
Zdorovetsky's actions impressed NBA basketball superstar Lebron James, however, who immediately uploaded photos of Zdorovetsky running on to the field of play onto his Instagram account.
The Russian, who now lives in America, was eventually tackled by five security guards before being arrested. However, that did not stop Zdorovetsky from keeping his legion of fans up to date, as he managed to send a selfie from jail.
Jail selfie pic.twitter.com/7cXZwUJUjf

— Vitaly Zdorovetskiy (@Vitalyzdtv) July 14, 2014
The 22-year-old is no stranger to falling foul of the law. On his YouTube site, VitalyzdTv, which has more than 6 million subscriptions, he can be seen filming himself fooling passers-by that he is robbing an ATM machine.