100,000 lives annually: Drug death toll triples in Russia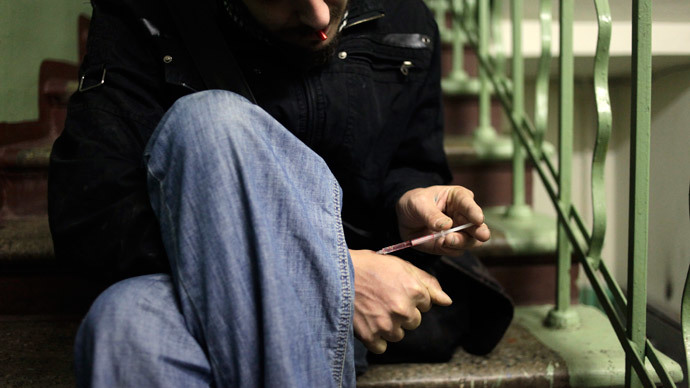 Around 100,000 people die from drug overdoses in Russia every year, worrying statistics from the country's Federal Drug Control Service have revealed.
"28.7 people out of 100,000 among [the] urban population have died from overdose and drug related diseases in 2013. That's 2.7 times higher than a year before," Olga Mishina, deputy head of the Federal Drug Control Service, said, as quoted by Itar-Tass news agency.

The social groups that are the most vulnerable to narcotics are young people and teenagers, she stressed.

Mishina was speaking at the annual All-Russian Congress of the Anti-Drug Volunteer Movement, which took place on the shores of Lake Baikal in the Irkutsk Region on July 1-7.

Rehabilitation and socialization of drug addicts were among the main subjects discussed during the event.

According to Mishina's data, many try out drugs for the first time at the age of 11 or 12, while becoming acquainted with toxicological substances even sooner, at 9-10 years of age.

About 18 million people in Russia have tried drugs at least once in their life, with around eight million using different narcotics with varying degrees of regularity.

The Federal Drug Control Service's deputy chief warned that the stats for drug crimes show a tendency for rejuvenation.

"Out 108,700 people convicted for drug-related offenses in 2013, 46 per cent were young people aged between 18 and 29, with another 2,100 being minors," she said.

Despite over 250,000 drug-related crimes investigated annually by law enforcement officials, there's over a billion cases of drug sales registered every year, Mishina stressed.

"It's a tremendous amount. And it's impossible to investigate everything," she acknowledged.
Mishina believes the police are doing everything they can, adding that stricter measures won't help stop the spreading of drugs.

More effort should be put into preventive measures like the further development of the Anti-Drug Volunteer Movement in the country, she explained.

In late June, the head of the Federal Drug Control Service, Viktor Ivanov, also said that 100,000 lives are being claimed by drugs every year.

However, he emphasized that the authorities finally managed to prevent a rise in drug related deaths.

"Until recently, the number of drug addicts was growing rapidly," Ivanov told Rossiyskaya Gazeta newspaper. "The amount of drug related fatalities increased by 5,000 or 6,000 every year. Today that figure is still very scary: almost 100,000 deaths annually. But for the first, we managed to stop this growth."
You can share this story on social media: