Radioactive load from hijacked truck found in Mexico
Published time: 4 Jul, 2014 21:27
Edited time: 5 Jul, 2014 02:54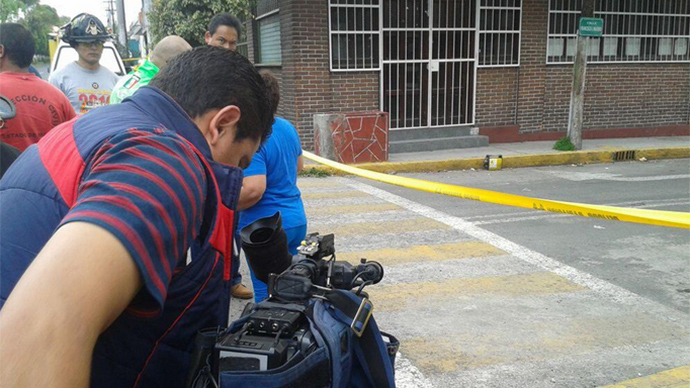 Mexican authorities have recovered dangerous iridium-192 material stolen from a truck on Thursday in Tlalnepantla, north of the capital. The container had no leakage and radioactive material did not cause harm to the population, the authorities announced.
"We located the radioactive source" the National Coordinator of Civil Protection of the Ministry of Interior Luis Felipe Puente said via his twitter. All of the material appears to be accounted for, he later added in an interview with Milenio television.
The container "was not violated, it contains the material, which was measured," he said."As it wasn't manipulated, there was surely no risk to people," Puente added.
En la esq de Presidente Juárez y Madero, #Tlalnepantla, fue localizado material radioactivo robado. Esta acordonado. pic.twitter.com/Mz4AgUaTyx

— ICR (@isidrocorro) July 4, 2014
In the morning, the government of Mexico issued an alert warning after a truck containing radioactive material was stolen. The government urged the thieves not to open up the contents of the protective container.
The substance "can be dangerous for human health if removed from its container," the federal civil defense office said in a statement, confirming that deadly iridium-192, a radioactive matter used in making industrial products, was stolen.
Acordonado el lugar dónde hallaron material radiactivo en calles de San Jerónimo Tepetlacalco en @TlalnepantladeB... pic.twitter.com/iNWFvGajGk

— Grupo Imagen (@TraficoReporte) July 4, 2014
Puente later announced that the vehicle was found in Tlalnepantla, and is now guarded by the authorities, but the radioactive substance has not been recovered.
The Interior Ministry said that the Iridium 192 can cause permanent or serious injury to anyone who is handling it or comes into contact with it for a short time period.
It is the third theft of radioactive material in Mexico since December, when thieves hijacked a truck containing dangerous radioactive medical material Cobalt-60. The truck was later discovered with the safety container holding the cargo found empty, and the material abandoned nearby.