Ebola outbreak deaths surge to 467 - WHO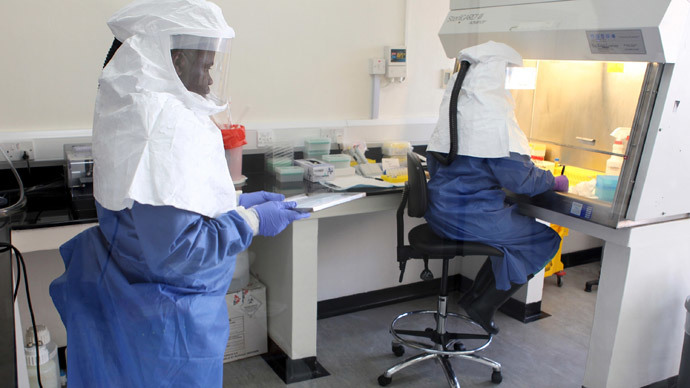 ​The outbreak of deadly Ebola virus is scything through West Africa with the number of deaths rising sharply over the past week to 467 people, the World Health Organisation said in its latest report on the uncontrollable epidemic.
In addition to the confirmed deaths in the countries of Guinea, Liberia and Sierra Leone, the WHO announced that the number of confirmed or suspected cases of the virus has risen to 759. Ebola virus disease (EVD), formerly known as Ebola haemorrhagic fever (EHF) has a mortality rate of up to 90 percent.
"As of 30 June 2014, the cumulative number of cases attributed to EVD in the three countries stands at 759, including 467 deaths," WHO said in their latest alert statement.
READ MORE: Ebola outbreak in W.Africa 'totally out of control' – MSF
The new update shows a 38 percent increase in the number of deaths and a 27 percent rise in the number of suspected cases since the WHO update last Tuesday, making it West Africa's deadliest Ebola epidemic on record. Last week, the death toll from Ebola stood at 399 as of June out of 635 cases.
Guinea with a population of just over 10 million is suffering the worst from the outbreak with 413 cases and 303 deaths. Neighboring Liberia witnessed 65 deaths among 107 registered cases, while Sierra Leone is treating 239 patients, 99 of whom have died.
Last Friday, the WHO issued a warning to the states bordering the three West African nations — Male, Ivory Coast, Senegal and Guinea Bissau — cautioning the governments that the virus could pass into their countries through infected people.
The WHO, in its latest statement, said that three major factors are contributing to patterns of transmission.
"These factors include transmission of EVD in rural communities, facilitated by strong cultural practices and traditional beliefs; transmission of EVD in densely populated peri-urban areas of Conakry in Guinea and Monrovia in Liberia; and cross-border transmission of EVD along the border areas of Guinea, Liberia, and Sierra Leone, where commercial and social activities continue among the border areas of these countries. "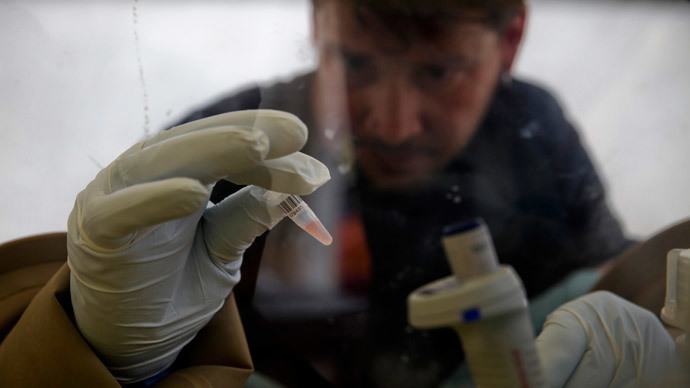 READ MORE:'Most challenging' deadly disease outbreak: WHO speaks out on Ebola dangers
On Wednesday, health ministers from eleven countries will meet in Accra, Ghana, to plan a regional response to the outbreak.
Ahead of the meeting, the WHO stressed that "Containment of this outbreak requires a strong response in the countries and especially along their shared border areas."
The first Ebola virus outbreak registered in the region occurred in Guinea in February 2014. By 23 April, the total number of suspected and confirmed cases in the Ebola haemorrhagic fever (EHF) outbreak had increased to 242, including 142 deaths at a case fatality rate of 58.7 percent. The virus is believed to have spread to neighboring states.
The governments of Guinea, Sierra Leone, and Liberia are trying to deal with the epidemic with prepared EHF response plans and conducting assessments through their national emergency committees.
The Economic Community of West African States (ECOWAS) in March disbursed $250,000 to deal with the outbreak. The European Commission (EC) gave €500,000 to help contain the spread of the virus in Guinea and its neighboring countries.
Sierra Leone activated an Active Surveillance Protocol making all visitors from Guinea or Liberia subject to a health screening process upon arrival. Senegal and Mauritania in late March closed their borders in an effort to contain the disease from spreading. In April, Saudi Arabia stopped issuing visas for the Muslim pilgrimage to Mecca to those from Guinea and Liberia.
Doctors Without Borders (MSF), believed to be the only aid organization treating people affected by the Ebola virus, last week warned the outbreak is out of control.
"The epidemic is out of control," said Dr. Bart Janssens, MSF director of operations. "With the appearance of new sites in Guinea, Sierra Leone and Liberia, there is a real risk of it spreading to other areas."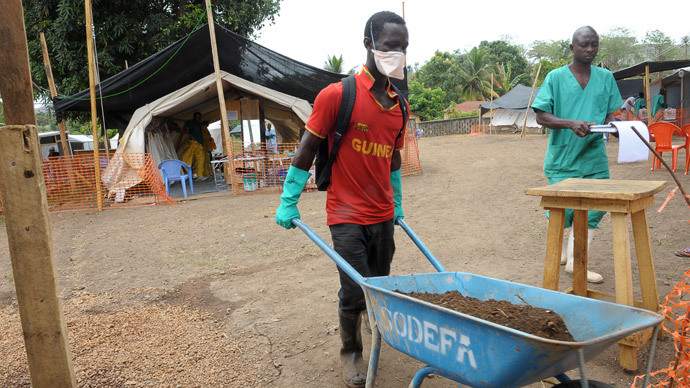 "We have reached our limits," Janssens claims. "Despite the human resources and equipment deployed by MSF in the three affected countries, we are no longer able to send teams to the new outbreak sites."
MSF has urged the WHO to deploy the resources necessary to fight an epidemic of this scale.
"In particular, qualified medical staff need to be made available, training in how to treat Ebola needs to be organised and, contact tracing and awareness-raising activities among the population need to be stepped up. Ebola is no longer a public health issue limited to Guinea: it is affecting the whole of West Africa," says Janssen.
On Tuesday, Liberian President Ellen Johnson Sirleaf issued a statement saying that Ebola has become a national public health emergency.
"It is illegal under our public health law to expose the people to health hazard such as Ebola," Sirleaf said, Reuters reports. "Let this warning go out, anyone found or reported to be holding suspected Ebola cases in homes or prayer houses will be prosecuted under the laws of Liberia," she said.
According to the WHO fact-sheet, EVD outbreaks spring up in remote villages in Central and West Africa, near tropical rainforests. Between 1976, when the virus was first identified, and 2014, fewer than 1,000 people a year have been infected.
The virus is transmitted to people from wild animals and spreads in the human population through human-to-human transmission, with fruit bats of the Pteropodidae family considered to be the natural hosts of the Ebola virus. No vaccine is available for use in people or animals, with "several vaccines are being tested, but none are available for clinical use."
"Ebola is introduced into the human population through close contact with the blood, secretions, organs or other bodily fluids of infected animals. In Africa, infection has been documented through the handling of infected chimpanzees, gorillas, fruit bats, monkeys, forest antelope and porcupines found ill or dead or in the rainforest," the WHO says.
The virus manifests itself with a sudden onset fever with chills, sore throat, severe headache, weakness, joint pain, muscle pain, and chest pain. The average time between contracting the infection and the onset of symptoms is 13 days, but can be as long as 25 days.