Japan govt allows foreign military deployment, earns China's ire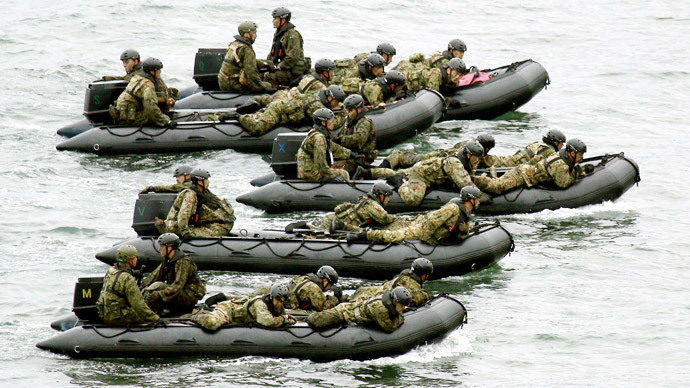 China has reacted angrily after Japan's Cabinet reversed a key article of the post-war constitution that forbids the country's troops from ever fighting on foreign territory.
Article 9 of the 1947 founding charter proclaimed Japan a pacifist nation, meaning that its armed forces are technically domestic self-defense units, and cannot participate even in UN-backed conflicts, other than as peacekeepers.

Following the landmark "reinterpretation" (a legal repeal would require two-thirds of the votes of the parliament) Japanese troops could be deployed if "there is a clear existential threat to Japan and if people's right to life, liberty and pursuit of happiness could be fundamentally overturned," said Prime Minister Shinzo Abe.

At the press conference following Tuesday's decision, Abe said that the move will actually "reduce the risk of war," claiming that the current constraints merely embolden Japan's adversaries.

Abe promised that Japan would not be involved in coalition operations with its allies, such as the wars in Iraq or Afghanistan, and even during defensive wars.

"We will not resort to the use of force solely with the aim of defending other countries. But by being fully prepared to deal with any situation, Japan can foil any attempt to wage war against Japan," said the Liberal Democratic Party politician, whose government enjoys the support of most of the population in the polls.

Japan's PM has been given the opportunity to push through the historic change – long-requested by Washington and other allies keen on Japan sharing more of the international military burden – due to its increasingly tense stand-off with China.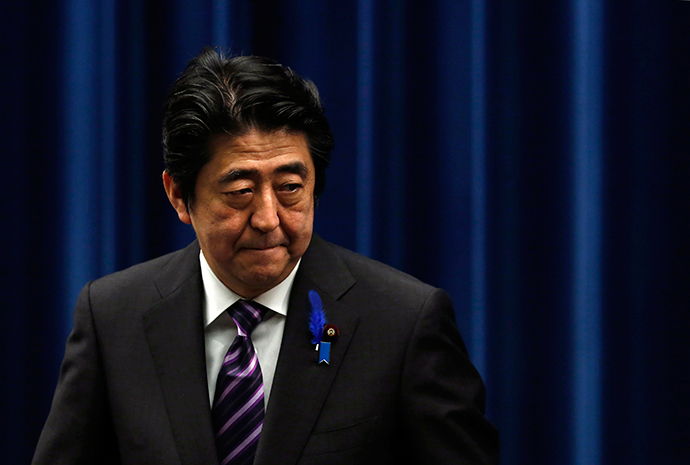 Beijing and Tokyo have been locked in a dispute over the Japanese-owned Senkaku (or Diaoyu) Islands. Although uninhabited, they allow the owner to claim lucrative trade routes, and vast potential underwater resources that have yet to be explored.
Japan has scrambled its planes over 400 times in the past year to ward off Chinese ships circling the archipelago.

The Japanese announcement provoked an immediate riposte from Beijing.

"China opposes the Japanese fabricating the China threat to promote its domestic political agenda," Chinese Foreign Ministry spokesman Hong Lei told reporters in Beijing.

"We demand that Japan respect the reasonable security concerns of its Asian neighbors and prudently handle the relevant matter."

Polls show that while the Japanese population is worried about a potential confrontation with China, most regard the new ruling a potential slippery slope, which could see Japanese soldiers fighting alongside US and other Western troops in political wars thousands of miles away from its borders. A survey conducted by the Nihon Keizai Shimbun media group last week showed that only one in three endorse the "reinterpretation", and half are opposed to it.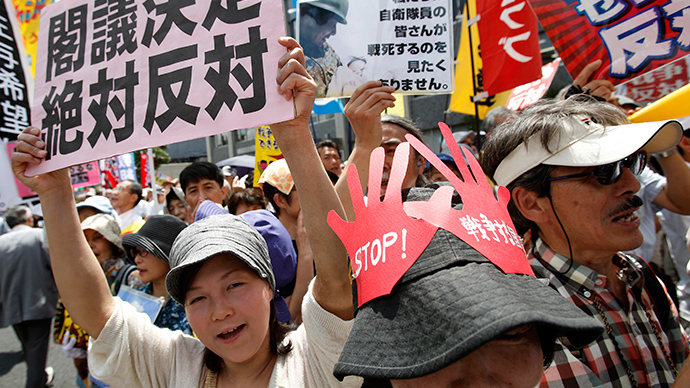 About 10,000 people protested in Tokyo on Monday, and a dissenter set himself on fire last week. As the final decision was announced, hundreds of opponents shouting,
"Don't send our children to the battlefields!"
and holding placards saying "Save Article 9" congregated around the government building in central Tokyo, with smaller demonstrations in other parts of the country.
But Abe has promised there will be further public discussion of the controversial document.
"Based on the Cabinet approval, we will immediately start to prepare related bills by setting up a team of officials,"
he said.
"As soon as the bills are ready, we will submit them to the Diet for deliberations."
You can share this story on social media: