Chinese general slams US over Asia-Pacific 'hegemony'
As US Secretary of Defense Chuck Hagel used a security forum in Singapore to criticize Chinese "intimidation" tactics in the South China Sea disputes, Beijing rebuked the US for its "completely non-constructive" comments "full of hegemony and threats."
"Hagel's speech was full of hegemony," said Lt. Gen. Wang Guanzhong, as quoted by The Financial Times. "It was…filled with instigation, threat and intimidation, which wanted to incite the destabilizing factors of Asia-Pacific region to stir up disputes."

In his address to the Shangri-La Dialogue conference, Hagel commented on China's recent tensions with Vietnam and the Philippines over disputed territories in the South China Sea, as well as its establishment of an air defense identification zone in the East China Sea - which includes islands that both China and Japan claim as their own.

"In recent months, China has undertaken destabilizing, unilateral actions asserting its claims in the South China Sea. It has restricted access to Scarborough Reef; put pressure on the long-standing Philippine presence at the Second Thomas Shoal; begun land reclamation activities at multiple locations; and, moved an oil rig into disputed waters near the Paracel Islands," Hagel said.

Those charges are "groundless," Maj. Gen. Zhu Chenghu stressed to Wall Street Journal, adding that "the Americans are making very, very important strategic mistakes right now."

"If you take China as an enemy, China will absolutely become the enemy of the US," Gen. Zhu warned. "If the Americans take China as an enemy, we Chinese have to take steps to make ourselves a qualified enemy of the US. But if the Americans take China as a friend, China will be a very loyal friend; and if they take China as a partner, China will be a very cooperative partner."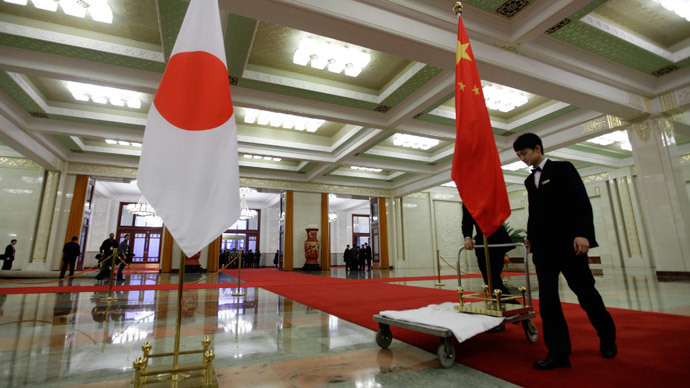 At the same time, Hagel didn't wish to steer away from China completely in his address, asserting that a joint military engagement with Beijing is also in everyone's best interests.

"All nations of the region, including China, have a choice: to unite and recommit to a stable regional order, or, to walk away from that commitment and risk the peace and security that has benefited millions of people throughout the Asia Pacific, and billions around the world," he said.

But things are not as clear-cut as the Singapore forum may portray them to be. Hagel's remarks also come amidst reports that the US has quietly deployed two advanced military drones to Japanese bases. It also comes during the cyber spying scandal in which China says Washington has actually fabricated evidence against the Chinese military.
Japan eyes 'proactive pacifism'
On Friday, the Shangri-La Dialogue conference in Singapore saw US-backed Japan stress regional cooperation with a policy of "proactive pacifism." Japanese Prime Minister Shinzo Abe said the neighbors are "in an area in which it's no longer possible for any one nation to secure its own peace by itself."

In April, Tokyo received backing from the US which said that the territories - called 'Senkaku' in the Japanese tradition - are "under the administration of Japan." At the Singapore conference, the Obama Administration again made it clear it favors Japan taking the lead and ensuring regional security. Japan then went as far as promising to provide coast guard and air support in the South China Sea.

The pledge was accompanied by explanations as to why Japan wants to move away from its post-WWII promise of not engaging in military operations overseas, hence the "proactive" rhetoric that Abe insisted would go towards "making peace in Asia and the world something more certain."

The PM's concern is that ever since the pacifist policy, Japan's Self-Defense Forces have been "unable to rescue" civilians on foreign ground, despite having "superb defense equipment."

China believed Abe's claims to be a thinly-veiled attempt at restoring Japan's regional supremacy.

"He has made it into a bigger issue – that is China as a country is posing a threat to Japan as a country," Beijing's chief delegate at the Shangri-la talks, Fu Ying, told the guests on Friday, adding that this is nothing but a "myth" and an attempt to "amend the security policy of Japan" – something China is very concerned about.

While such back-and-forth military posturing has been set in motion with players on different sides backing Japan and China, some experts believe such rhetoric by Japan is a step back from security considerations and can only be interpreted by Beijing as Tokyo's "piling on" of military might in concert with the United States.

"The Abe government has proposed that it's going to begin to sell military items, coastguard vessels, war materials, etc. to other countries in South-East Asia – and Asia – and is going to take a role which is essentially to make it an active ally of the United States," Conn Hallinan, a writer for Foreign Policy in Focus, said.

"What it seems like, I think, if you're in Beijing, is that Japan is piling on, along with the United States. [That] can lead to mistakes and serious tragedy."
You can share this story on social media: