Ukraine military resumes 'active phase' of operation against ant-govt forces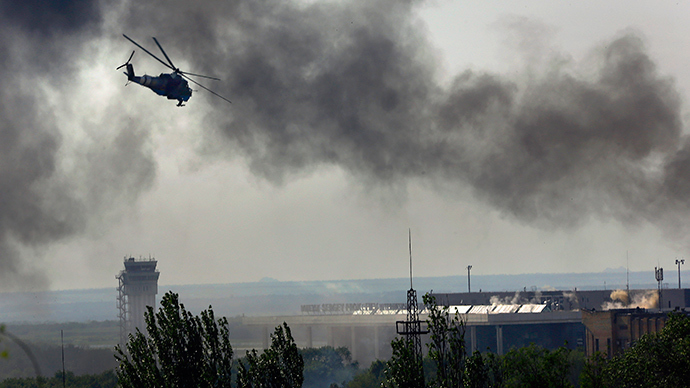 Massive artillery shelling and airstrikes have resumed in Eastern Ukraine after Kiev terminated a shaky ceasefire with local militias.
READ MORE: We'll attack & free our land': Ukraine president terminates ceasefire in east
"Starting this morning the active phase of the antiterrorist operation has resumed. Our forces are conducting strikes," announced Aleksandr Turchinov, Ukrainian parliament speaker and former acting president.
Russia demanded that Kiev stop the military attacks on cities and announce a new ceasefire, which would result in an actual rather than a declarative pause in hostilities.
Reports of night gunfight and explosions came Tuesday morning from Donetsk, the capital of Donetsk Region.
By daytime, clashes started in the center of the city near a militia-controlled police station. The gunfire reportedly injured a passer-by and damaged many cars parked nearby. People fled a business center located in the vicinity.
There were also causalities in Kramatorsk, where a bus was fired at early in the morning, with four people reported killed by militia sources. Five people were reportedly injured in the incident.
Kramatorsk was also shelled overnight, with a residential building damaged by the artillery fire.
#Kramatorsk: Mayor resigns affirming 'impossibility of managing a city undergoing economic collapse & blocked access to treasury funds'.

— PaulaSlier_RT (@PaulaSlier_RT) July 1, 2014
Near the village of Snezhnoye, a Ukrainian bomber jet was shot down by an anti-aircraft battery, militia claimed.
Andrey Lysenko, chairman of the Ukrainian National Security and Defense Council, denied the claim, saying all military hardware is "in good shape and performing combat duties."
No independent corroboration or disproval of the incident was immediately available. The militia has a record of shooting down Ukrainian military aircraft and both sides have been known to report false information concerning their victories and defeats in the past, which makes neither a completely reliable source.
The incident was not immediately confirmed by Kiev, but the militia has a record of taking down Ukrainian military aircraft.
Ukrainian tanks attacked a self-defense forces position near village of Karlovka in the east of the region, local news website 62uf reported.
Heavy artillery shelling was reported in Slavyansk, the militia stronghold that has been the focus of the Ukrainian military crackdown on the defiant east.
The intensified shelling sparked fresh outrage from civilians on the ground, whose homes and families suffer the artillery fire.
"There are no roadblocks here, nobody. Who are they shelling here? Look what the Ukrainian army did," a Slavyansk resident told RT, showing the aftermath of a missile strike.
"If this government needs us, let them come and see. [President Petro] Poroshenko announced how glad he was after his grandson was born. We were glad for him. Let him come and see how people cry because their granddaughter is taken to Donetsk hospital with serious injuries," another resident said.
The Slavyansk militia used mortars to shell the Karachun hill, a vantage point from which the Ukrainian artillery is regularly firing at the city. The attack resulted in the collapse of a TV relay tower.
The tower was already damaged in previous clashes, and fell on Tuesday after the remaining cables supporting it were cut.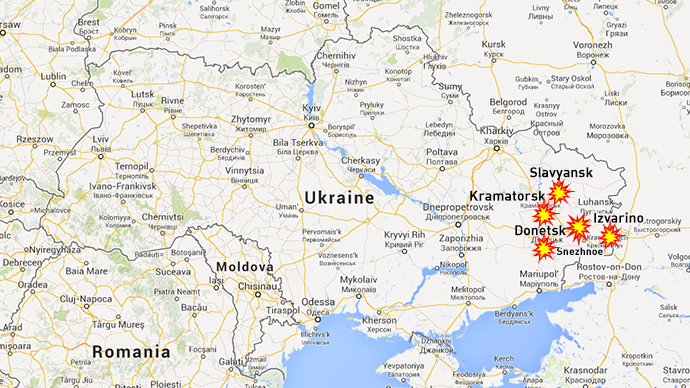 Elsewhere in Donetsk Region, a railroad was damaged by several bombs, local police reported. In previous days the regions' railroad system has been targeted by bombers several times, with one explosion happening just before a passenger train from Russia was about to pass. Luckily the conductor managed to stop the train in time to avoid any harm.
The renewed hostilities also affected bus transport in the region, as several bus routes have been canceled due to security concerns.
In neighboring Lugansk Region, the Ukrainian army attacked the militia-held border checkpoint Izvarino, local self-defense forces reported. At least two civilians were reportedly injured by stray fire.
READ MORE: Last word 'camera'! Russian journalist killed in E. Ukraine working till dying breath
The fighting in Izvarino proved to be risky for Russian journalistscovering the confrontation. A news crew from Russia's Ren-TV came under fire.
"A shell presumably fired by a howitzer landed next to our people," Stasya Shulga, a spokesperson for the channel told RT. "It happened when they were working at a poultry farm, which was being shelled by the Ukrainian military."
"[The correspondent] Denis Kulaga has concussion and can't hear anything. His ears are bleeding. His cameraman has concussion too. The blast wave ripped the camera from his hands," she added.
The town of Severodonetsk also came under heavy shelling on Tuesday, the aftermath of which could be seen in numerous videos posted on YouTube. One of the many civilian targets hit was a boarding school which had been evacuated earlier.
Chemical plant of "Azot" which process ammonia was also hit. Production at the plant had been stopped earlier in May, with all the chemical materials removed for safety.
The onslaught comes after Ukrainian President Petro Poroshenko terminated on Monday midnight a ceasefire that somewhat deescalated the clashes in eastern Ukraine.
Russia criticized Kiev's move to end the ceasefire, saying that it undermined efforts by Moscow, Berlin and Paris to launch diplomatic action to resolve the Ukrainian crisis peacefully.
The Russian Foreign Ministry accused Kiev of reneging on plans for peaceful resolution of the crisis discussed during negotiations, which also involved representatives of Eastern Ukraine, the OSCE and Russia, alleging that it was done "not without foreign influence, which went against the position of leading members of the European Union."
"Once again we are calling on parties to stop using Ukraine as a bargaining chip in geopolitical games and to cease enforcing the criminal line towards suppression of the protest movement through force,"it said in a statement.
The ceasefire allowed for negotiations between Kiev and representatives of eastern Ukraine, which unfortunately ended with no peace plan.
While praised by foreign nations and international organizations, the Ukrainian ceasefire was occasionally violated by both sides of the conflict. The clashes didn't stop as Ukrainian troops remained in their positions and neither side appeared to trust the other one to actually hold fire.
Parts of eastern Ukraine defied the political forces that came into power in Kiev after an armed coup in February. As Donetsk and Lugansk Regions voted in referenda for self-governance, Kiev authorities launched a military crackdown on the militias, branding their opponents terrorists. The campaign left hundreds of people, mostly civilians, killed and thousands fleeing for their lives.
You can share this story on social media: