'We'll attack & free our land': Ukraine president terminates ceasefire in east
Ukrainian President Petro Poroshenko has decided to not prolong the ceasefire with Donetsk and Lugansk People's Republics, announcing an end to a fragile deal to deescalate tensions in the country's eastern regions.
"We will attack and will free our land," Poroshenko said. The ceasefire officially ended at 19:00 GMT, according to a statement that appeared on the president's website shortly after midnight.
Since then, heavy shelling and intense shooting was reported in the city of Kramatorsk in the Donetsk region.
"The shelling started at 22:25 local time," American photographer Patrick Lancaster told RT by phone from Kramatorsk. "We are in the basement of the Kramatorsk Hotel. About two hours ago, mortaring started on the center of the city. Each wave lasted anywhere between five to 20 minutes, and there were three different waves of mortars. I don't have any direct information about wounded or killed, but there were so many explosions that I really think there is large number of casualties."
"We are still waiting for another wave of mortaring," blogger Christian, sitting in the same cellar with Lancaster, told RT. "We really are scared that it might happen again."
"We are in the basement now. With us there are around 10 other people. Most of them are old people," Christian said, adding that he convinced them to stay because of the extreme danger posed by the shelling. The blogger said it is "absolutely impossible" that there were no casualties, as they heard "dozens" of shells hitting the city.
According to an Itar-Tass source, the attack by Ukrainian troops began at 19:30 GMT. Meanwhile, the Ukrainian military claimed that it was the militia who launched the attack, killing several service members.
READ MORE: 'Over 20 killed' in bloody Slavyansk battle despite ceasefire
The newly-elected president said that the decision to unilaterally end the ceasefire was taken after his meeting with Ukraine's National Security and Defense Council. Poroshenko told Ukrainians that "peace" is the end game, but the "tools" of achieving it have changed.
"Protection of Ukraine's territorial integrity, security and lives of civilians requires not only defensive, but offensive action against terrorists-militants. Armed Forces, the National Guard, the State Border Service, the Security Service received appropriate orders," Poroshenko said, adding that they "are no longer limited to the ceasefire."
The decision to end the ceasefire comes despite peacekeeping efforts from both Russia and Europe. In a final effort to influence Kiev's decision, Russian President Vladimir Putin offered earlier on Monday for border checkpoints on the Russian side to be monitored by representatives of the Ukrainian Border Service, as well as OSCE observers, for "the joint control of the border," in order to ensure there were no crossing points being used for illegal purposes.
"Non-renewal of the ceasefire is our response to terrorists, rebels, looters, all those who torment the civilians, who paralyze the economy of the region, who disturb payment of salaries, pensions, stipends, who undermines the railroads, destroys water pipes, those who deprive people of normal peaceful life," Poroshenko said in an address to the nation.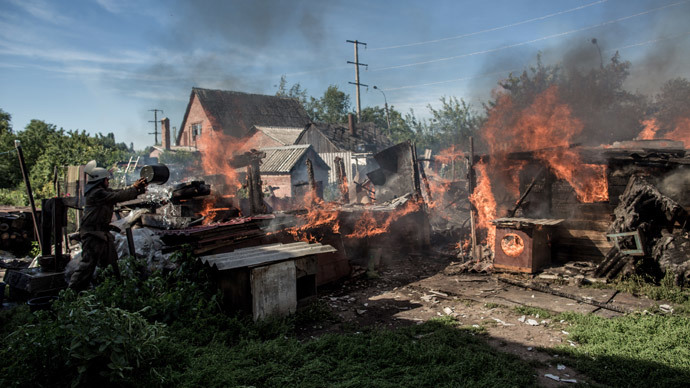 READ MORE: Slavyansk residential districts 'a mess' after Kiev troops' shelling (VIDEO)
Poroshenko has put all the blame for truce failure on representatives of Donetsk and Lugansk militias, claiming they violated the ceasefire "over 100 times," thus losing this "unique opportunity" to implement a peace plan. Poroshenko added that within the timeframe of the temporary truce, international support for Ukraine's actions grew stronger, as Kiev managed to sign the EU Association Agreement.
"Political leadership of separatists demonstrated unwillingness and inability to control the actions of their terrorist units and gangs of looters," Poroshenko said.
READ MORE: Soviet-era bunkers help Lugansk residents hide from Kiev troop shelling
Despite numerous documented assaults by Ukrainian forces on Lugansk and Donetsk regions – which killed dozens of civilians during what was supposed to be a ceasefire – Poroshenko was quick to assure the public that Ukraine's military conduct is noble in nature.
"Ukrainian Armed Forces, National Guard, and other units would never allow themselves to use force against peaceful people. They will never assault the residential quarters. Ukrainian soldiers and guards will be risking their lives, so as not to expose threats to women, children and elderly people," Poroshenko said, adding that "such is the eternal nature of the Ukrainian military valor."
UN: 356 killed, including 257 civilians, in E. Ukraine military campaign
Poroshenko asked for "understanding" from the people of Donetsk and Lugansk regions for his decision to renew military assault. "I ask you to be our allies in returning security to Donbass," he said, offering those still with arms to voluntarily surrender in return for a "presidential amnesty."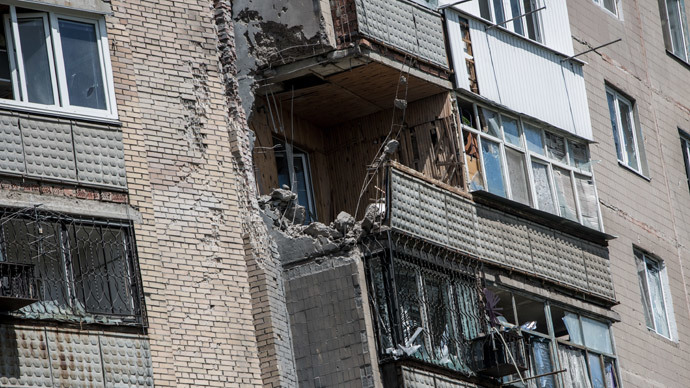 At the end of the speech, Poroshenko said that the "peace plan, as a strategy for Ukraine and Donbass" is still in force, as well as the promised rights for the Russian language in the region. Disarmament and decentralization, Poroshenko said, are also on the table. He promised to implement the EU scheme to provide employment opportunities, and stated that Kiev is willing to pay for damages inflicted.
"And even to the ceasefire, we are ready to return at any moment, when we see that all parties adhere to the implementation of the main points of the peace plan."
You can share this story on social media: