'Stop war': Thousands protest in Japan over military expansion law change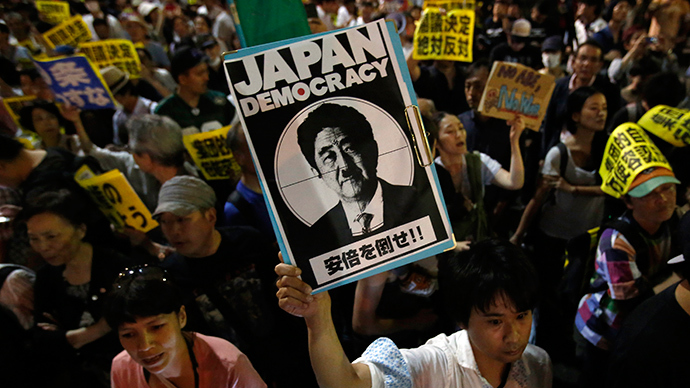 Thousands gathered outside the Japanese prime minister's office to protest constitutional changes that would expand Japan's military role and allow overseas deployment. It comes one day after a man set himself on fire in protest against a proposed law.
Protest organizers have estimated that 10,000 people – including students, pensioners, and women – attended the rally outside Prime Minister Shinzo Abe's office in Tokyo. However, police put the number of participants at "several thousand."
The demonstration comes on the eve of a cabinet meeting, where lawmakers are expected to endorse a resolution that would expand the use of Japan's military by reforming the constitution.
Chanting "Don't destroy the Constitution" and "We absolutely oppose reinterpretation of the Constitution," as well as "We don't need the right to collective self-defense," demonstrators expressed their opposition to what they say is a "historical turning point," the Japan Times reported.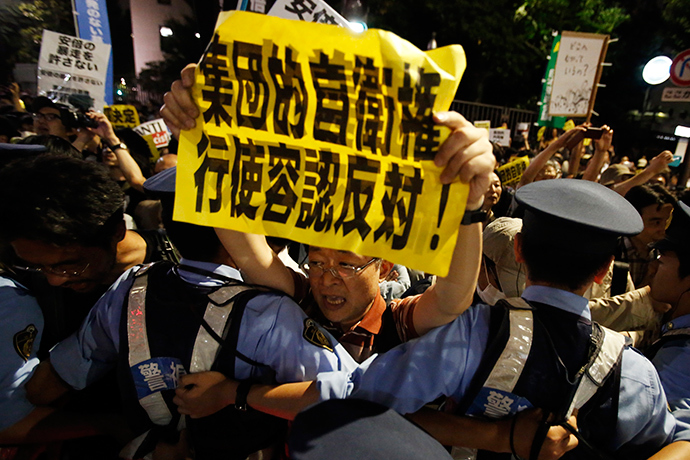 Protesters are angered by the fact that Abe's government is making changes to the constitution – not by the democratic process of referendum, but by changing the interpretation of it in a Cabinet meeting.
"Protect the constitution!" the demonstators shouted, according to AP. "Stop war. Stop Abe. Abe quit right now!"
The change will significantly widen Japan's military options, as it will end the ban on "collective self-defense," or aiding a friendly country under attack.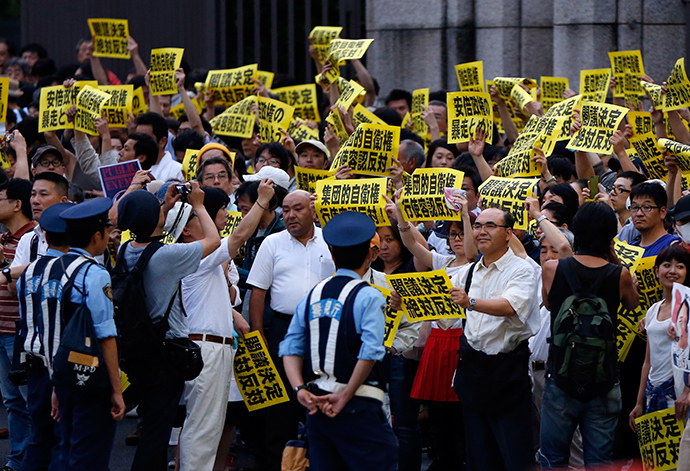 Since the end of World War II, the Japanese constitution has forbidden the use of military force against other nations. It may only use its armed forces in self-defense. Japan's military has not engaged in combat since 1945.
But the prime minister says the change is needed because of regional tensions – particularly China's military expansion, and missile and nuclear threats from North Korea.
The move, however, is opposed by at least half the population, according to the latest polls.
A recent survey published on Monday by Nikkei Asia Review shows that 50 percent of respondents oppose dropping the ban, while 34 percent support the change.
In a dramatic act of protest, a middle-aged man set himself on fire on Sunday to express his opposition to the government's plans to change Japan's pacifist constitution.
As the activist finished his speech, he doused himself in what appeared to be gasoline and set himself ablaze in front of hundreds of onlookers. A video showing the protest appeared on YouTube.
Abe's cabinet could finalize a resolution as early as Tuesday, as his ruling Liberal Democratic party [LDP] has secured the support of its junior coalition partner, New Komeito, which has a strong pacifist tradition and was previously against the change.
You can share this story on social media: