Spanish mayor charged for setting town ablaze (VIDEO)
Published time: 26 Jun, 2014 08:47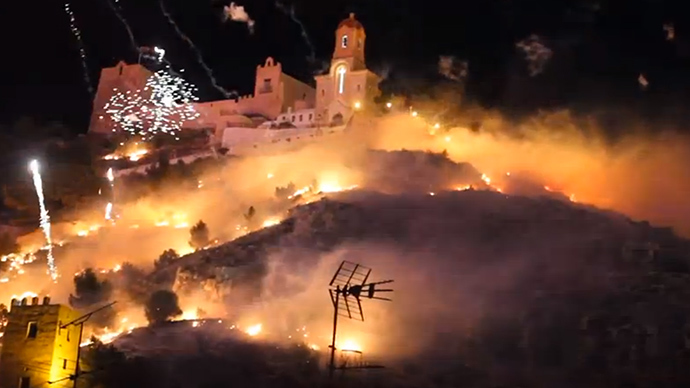 A Spanish mayor has been charged for setting a town on fire after ignoring a fireworks ban. The illegal pyrotechnics resulted in a massive hillside blaze, which forced some residents of the town to evacuate from their homes.
Despite a ban, which had been implemented because of an extremely high risk of forest fires, Mayor Ernesto Sanjuan gave the go ahead for a fireworks display on April 26 in the town of Cullera in southeastern Spain. Sanjuan was charged along with the display's organizer, Andreu Piqueras, who are both members of Spain's ruling People's Party.
El alcalde de #Cullera asume su error por el #incendiohttp://t.co/neqMsMN0OQpic.twitter.com/bd0egMhvnP

— levante-emv.com (@levante_emv) May 12, 2014

The fireworks display was held at Cullera castle and was branded as "reckless" and "gravely irresponsible" by rival politicians.

"We cannot allow people's lives to be put at risk because of the caprices of one person," said Jordi Mayor, the head of a local socialist group, to Huffington Post Spanish.

The fireworks started several small fires on the hill around the castle which quickly spread, setting the whole hill ablaze and forcing several people in the San Antonio neighborhood to abandon their homes.
"Sanjuán has endangered the lives of many people, causing an ecological disaster from which it will take decades to recover," said Juan Ponce, spokesperson for local green and left-wing party the Compromise Coalition.

The mayor is due in court on July 14 and could potentially face charges of negligent arson. He says that the fire came as a "surprise" because there was "hardly any vegetation" on the hill surrounding the castle.

After the fire broke out, eight fire crews from the nearby towns of Gandia, Silla, Catarroja, Alzira, Burjassot, Torrent and Sagunt were dispatched to battle the blaze. It took them an entire night to extinguish all the fires on the hill surrounding the castle.

Emergency services had previously sent a message to the festival's organizers warning them not to set off fireworks due to the level 3 pre-emergency fire risk status that day.