​Import the law: EU to send Kosovo-style mission to Ukraine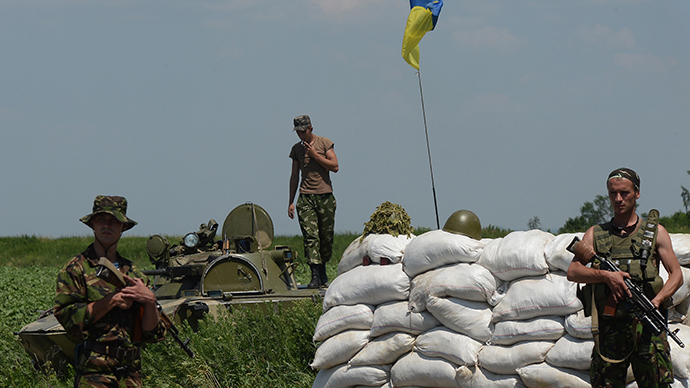 The EU will send a two-year law enforcement mission to Ukraine that will overhaul its police. And the Ukrainian military is to receive assistance from NATO to become a formidable fighting force.
"A political decision has been taken today to send a two-year mission. It will be created immediately and deployed in a short time," Lithuanian Foreign Minister Linas Linkevicius told journalists on Monday on the sideline of an EU ministerial meeting in Luxemburg.
"The mission's goal would be to assist reforms of the interior forces and special services in Ukraine," he added.
The minister didn't offer any detail on the number of European specialists to be sent to Ukraine or the scope of their authority.
The EU has experience with sending its officials to have an input on governance practices and reforms in places like Somalia, Congo or Mali. The biggest is the EULEX Kosovo mission, which is second only to Brussels in the number of EU civil servants serving in one place.
Thousands of European police, prosecutors, judges and other officials have been in Serbia's breakaway republic to help it with state building and implementing European standards of law enforcement and justice since 2008 and will remain there until at least 2016, when their current mandate extended in April this year expires.
The EU demands that Ukraine takes reforms in many areas of governance and economy as part of adopting the EU Association Agreement. The loans it is offering to Kiev come with a commitment to carry out austerity reforms.
Earlier NATO announced that it would assist Ukraine in reforming and beefing up its armed forces. Members of the alliance are expected to form a trust fund to finance the process after a meeting in Brussels later this week, according to a Brussels source in the alliance cited Monday by Itar-Tass.
The assistance will not involve supplying weapons to the civil war-torn country, leaving the decision on offering such deals to individual member states.
Kiev is conducting a military crackdown on armed protesters in the east of the country, whom the Ukrainian authorities call terrorists. The campaign did not stop despite a week-long unilateral ceasefire announced last week by President Petro Poroshenko.
The conflict has claimed hundreds of lives, many of the civilians, as Ukrainian troops are using heavy artillery and air strike against militia-held cities.
You can share this story on social media: