'Don't take photos': HRW slams Bahrain for targeting photogs over protests coverage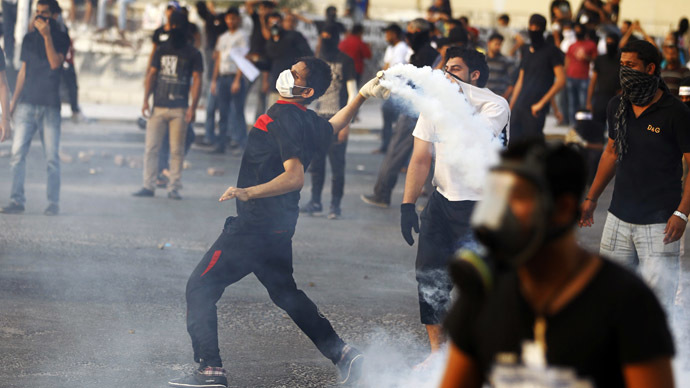 ​The Human Rights Watch has slammed Bahrain authorities for targeting photographers who cover anti-government protests. At least 25 cameramen have been held up in the country since 2011, with 4 award-winning correspondents still charged or in jail.
On Sunday, Hussain Hubail, who won a 2013 award, is to appeal a five-year sentence for taking part in an "illegal gathering" and inciting hatred of the government.
Then, on Wednesday, Ahmed Humaidan, who also took award-winning photos of protests and recently won the 2014 John Aubochon Press Freedom Award, will launch an appeal against his 10-year sentence for allegations that he attacked a police station.
Both have been mistreated while in pre-trial detention, their family members told Human Rights Watch.
"The images that Ahmed Humaidan and Hussain Hubail captured portray a reality that the Bahraini government would prefer that the world – and other Bahrainis – not see," said Joe Stork, deputy Middle East and North Africa director for Human Rights Watch.
"Throwing photographers in jail isn't going to keep either the protests or the accounts of what happens in Bahrain out of the world's sight," he added.
Last year, two other photographers were targeted. They told HRW that security forces arrested them due to their occupation and later subjected them to tortures in custody.
Ahmed Fardan, a photojournalist whose photograph of protests in Bahrain won first prize in Freedom House's "Images of Repression and Freedom" contest last April, faces charges of participating in an "illegal gathering" on December 16, 2013, at which 60 people allegedly attacked police vehicles.
He was detained December 26.
"The first question they asked me was, 'Where is your camera?'" he said.
Then, the police confiscated the two cameras, hard drives, and flash drives from the room he was staying in. The man was taken to Criminal Investigation Directorate (CID) headquarters, where police blindfolded and handcuffed him in a cell known as "the freezer," as it was kept very cold, he said.
The first trial in Fardan's case is set to take place on September 14, 2014.
Plainclothes officers also arrested Sayed Ahmed Mousawi, another award-winning photographer, and his brother Mohamed at 5am on February 10 – without presenting a warrant.
The photographer's father told the HRW that the security forces beat and humiliated his son. Eventually, he reportedly signed a confession to curb further punishment – both physical and psychological.
A few weeks ago, though, a judge authorized his detention for a further 45 days, although he has yet to be formally charged.
HRW recounts several other cases of photo and video correspondents arrested in Bahrain. According to their sources, at least 25 photographers or cameramen have been detained in the Gulf Kingdom since 2011.
The main cause for the widespread arrests of photographers is that they "have played a leading role in challenging the authorities' version of events," said the former head of the photography department of Al Watan newspaper, Abdullah Hassan.
Abdullah Hassan was himself fired by government media three years ago, along with three other journalists. He says he was arrested and beaten.
"Why do you take pictures? Where do you publish them?" an officer who identified himself as "high-ranking" asked Hassan, then told him, "you will never find another job."
Last year, Hassan was hired by Al Ayam newspaper, but fired four days later due to "orders from above."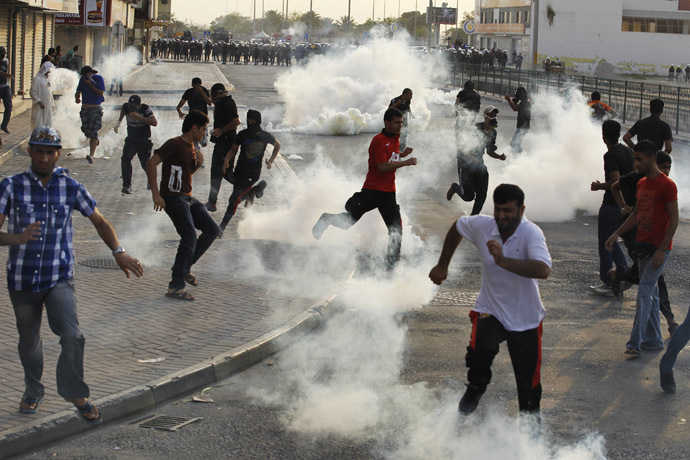 All the government's alleged actions are against the current country's legislation, HRW said. In particular, article 32 of the Arab Charter on Human Rights protects the right to freedom of expression – and so does article 19 of the International Covenant on Civil and Political Rights, which Bahrain has ratified.
"Everyone shall have the right to freedom of expression; this right shall include freedom to seek, receive and impart information and ideas of all kinds, regardless of frontiers, either orally, in writing or in print, in the form of art, or through any other media of his choice," HRW said.
In May, the rights group issued a damning report on Bahrain's justice system detailing its selective application, broken promises and a further descent into savage violence by the security state in the three years since the country's own Arab Spring.
Since 2011 the country has been beset by massive street demonstrations with the opposition demanding the establishment of a constitutional government in the Shia-majority state, ruled by a Sunni monarchy. On the eve of the three-year anniversary of the Arab Spring-inspired protests this past February, lese-majeste became a crime punishable by up to 7 years in prison.
The US government has been reluctant to criticize the small island country, which hosts its strategically vital Fifth US Fleet.