Unexpected tornado hits Istanbul (PHOTOS, VIDEO)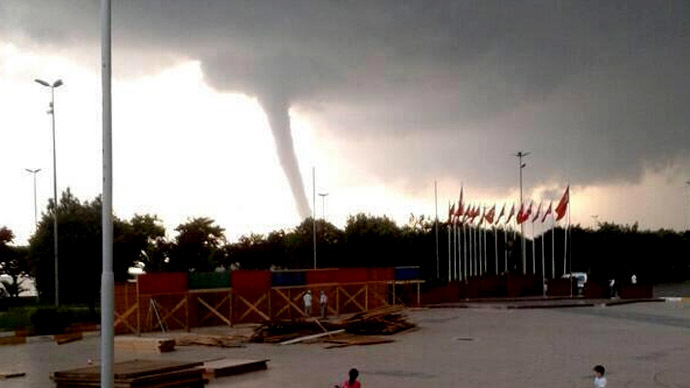 A rare tornado descended on eastern Istanbul Thursday as Turkish officials warned that up to 50 kilos of rain per square meter were expected to fall.
The tornado passed over the Marmara Sea before hitting the Pendik and Tuzla neighborhoods in the east of Turkey's biggest city and port. It then continued its journey to the Kozaeli province.
Rare tornado hits Istanbul, #Turkey. http://t.co/CWrIyWiIRRhttps://t.co/52FEBNV2Mtpic.twitter.com/RJP7r7Eo1p

— Jim Roberts (@nycjim) June 20, 2014
It was accompanied by extremely heavy rain that disrupted traffic and pedestrians Thursday evening, although no serious damage was reported.
Tornados happen occasionally in southern Turkey, which has a more arid climate, but rarely in Istanbul in the north of the country, which straddles Asia and Europe on the Bosporus Straits.
LOTS of tornado footage, #hortum Istanbul Turkey this afternoon, more; @Meteo_Europe: http://t.co/r3Nxacoo0Rpic.twitter.com/RL44zKIxe1

— Anita vV (@StormhunterNL) June 19, 2014
The tornado was the latest extreme weather incident to hit Istanbul, which had an unusually dry spring followed by exceptionally heavy rain on June 2. The rains caused extensive local flooding.
The Turkish tornado comes as ten people were killed by severe flooding in neighboring eastern Bulgaria.