​'Would I do this again? Definitely': Assange goes Reddit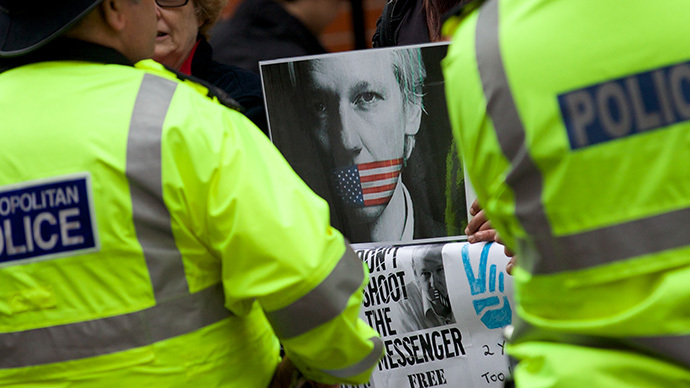 Julian Assange has launched his very own Q&A thread on Reddit on the day which marks his two years of confinement within the Ecuadorian Embassy in London. Users posed the WikiLeaks founder with questions on his life in the embassy, Snowden and best leak.
"I am Julian Assange, publisher of WikiLeaks. Ask me anything," starts the thread launched Thursday on one of the biggest net forums; the talk which followed ran uninterrupted till Assange had to go to his press conference with the Ecuadorian Foreign Minister Ricardo Patino.
"What would you say was the most important piece of information you have leaked?" users asked at once.
The ongoing PLUSD series, which contain some 2 million cables and according to Assange are used in elections and even admissible in court, the WikiLeaks editor-in-chief replied.
The WIKILEAKS (PlusD) series is a Public Library of US Diplomacy that holds the world's largest searchable collection of United States confidential, or formerly confidential, diplomatic communications.
Out of the collection, Assange wrote that "closest to my heart" is Collateral Murder video leaked by US private Chelsea Manning, then known as Bradley Manning. The classified video dates back to 2007 and shows three airstrikes by a US Apache helicopter in which up to 18 people were killed including two journalists working for Reuters. The WikiLeaks released it back in 2010 and made global headlines.
Chelsea Manning is now serving a 35-year prison term for violations of the Espionage Act and other offenses, after releasing the largest set of classified documents ever leaked to the public, most of which were published by Assange's Wikileaks.
READ MORE: 'Obama should consider his legacy' - Assange
Assange himself was given political asylum by Ecuador just over two years ago and has been holed up in the Ecuadorian embassy in London for two years. The UK has refused to give him safe passage to Ecuador and the British tax payer has been left with a bill of more than 6 million pounds for round the clock police surveillance to make sure he doesn't try and make a run for it.
He has been forced to live in just one room, as the Ecuadorian embassy in Knightsbridge is relatively small and has no garden.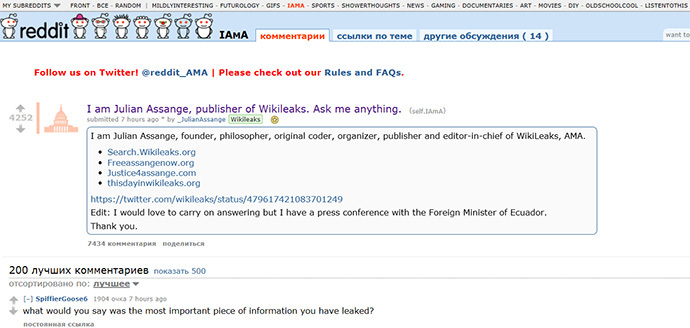 Asked if, given a chance, he would do this all again, Assange told Reddit:
"Definitely; we only live once and every day spent living your principles is a day at liberty. It is clear that history is on our side."
The WikiLeaks co-founder says he is never bored in his one room existence, that he has visitors almost every day and that his work keeps him so busy that he barely has time to sleep.
Assange also praised Edward Snowden, the former National Security Agency (NSA) contractor who blew the whistle on the mass surveillance programs of the US and its allies on its own citizens as well as other world leaders and politicians. Snowden is currently living in Russia where he has been given temporary political asylum.
The Australian whistleblower said of Snowden that he "performed an intelligent and heroic act" by making public the mass espionage program of the US and its allies, although to many in governments the revelations were already known about.
"I am a trustee for his legal defense and co-ordinated his asylum. Our Sarah Harrison kept him secure in his path out of Hong Kong and spent 40 days making sure he was OK in Moscow's airport," wrote Assange on Reddit.
Redditors complained that many ordinary citizens feel "helpless, overwhelmed and small" when they want to get a change. To that, the 42-year old Australian assured that people must take action in whatever way they can urging them to "think globally" but "act locally".
"WikiLeaks is my realization of this tension, but there are a flood of others starting. The clash between diversity and global uniformity which has been created by wiring the world to itself is now in play. You are the troops," he said.

As the forum conversation unfolded gathering thousands of points, talks between Ecuador and Britain on the ongoing standoff come to an impasse.
The Ecuadorian Foreign Minister Ricardo Patino said Thursday that although his British counterpart had agreed to try and set up a working group to broker a deal on Assange, the two had not even managed to meet to set up a working group.