Central Stockholm cordoned off after man with 'explosives' enters building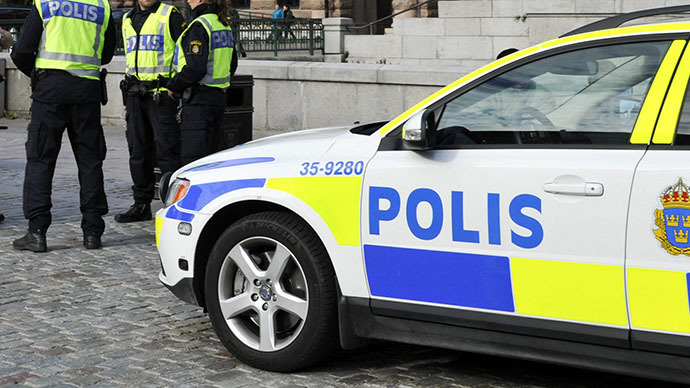 Two central areas in the Swedish capital are in lockdown after a man walked into an office building in Gamla Stan claiming he has a bomb strapped to his body.
The man who claimed to have a bomb and threatened to blow up an office building in the center of Stockholm gave himself up and was taken away by police, security officials said.
"He came out, he showed he wasn't dangerous and he could be detained without drama, and he has now been taken away from there ... What remains for us is to search the premises to make sure there are no dangerous objects," police spokesman Kjell Lindgren said.
The man walked into the building offices of human rights group and the ruling Moderate Party at 2.20pm (12.20 GMT) local time claiming to have an explosive device strapped to his body, the police said.
"He has expressed his dissatisfaction with parties in the parliament," the city police wrote in a statement as cited by local media.
The security forces have been "negotiating" with the suspect, newspaper Aftonbladet said. However, state TV reported the opposite that police were ordered not to make contact. Bomb technicians and ambulances have been deployed to the area.
Happening now: police and bomb technicians investigate threat in Old Town pic.twitter.com/DnCSLH70PR

— The Local/Solveig (@TheLocalSweden) June 19, 2014
Läget värre, nu avspärrar polisen ännu fler gator. #bombhot#svpol#gamlastanpic.twitter.com/sxDk0brRTP

— Arba Kokalari (@ArbaKokalari) June 19, 2014
"Staff immediately left the building. The man left his telephone number. He called us and we have been in contact with him several times," Swedish police told The Local.
The US embassy in Stockholm issued a statement strongly urging all American citizens to avoid Gamla Stan Street.
Central Stockholm was hit by two simultaneous suicide bomb attacks in December 2010 that left one person dead and two injured.
Det är i Borås det händer #bombhotpic.twitter.com/jBWkU4IkXI

— Daniel Björnalm (@dbjornalm) May 23, 2014