OPCW urges Syria to 'redouble' chemical disarmament efforts ahead of final deadline
Published time: 18 Jun, 2014 03:52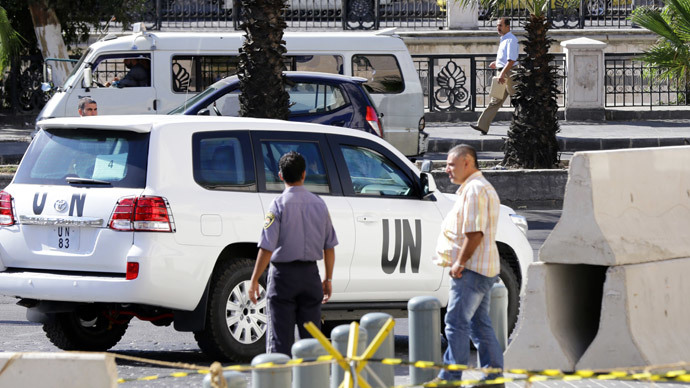 UN Chemical weapons watchdog warns that Syria will most likely miss the June 30 deadline for the complete destruction of its chemical arsenal unless the government "redoubles" its efforts to complete the transportation of the remaining 8% of chemicals.
The Organization for the Prohibition of Chemical Weapons (OPCW) has announced that chlorine gas is most likely being used in the Syrian conflict saying its conclusions are based on a preliminary report following a "grave incident which prevented the fact-finding mission from conducting an important field visit."
"The information that was available to the FFM lends credence to the view that toxic chemicals – most likely pulmonary irritating agents, such as chlorine – have been used in Syria," it said, referring to an attack in the village of Kafr Zeita and a subsequent OPCW mission that tried to carry out a mandated inspection.
Traveling to Hama province to investigate allegations of chlorine attacks, the OPCW convoy came under attack. Several team members were briefly kidnapped but no one was injured. The Syrian government and rebels blamed the attack on each other. The OPCW however did not say who was behind the raid neither did the watchdog announce who was behind the reported chemical attack.
Meanwhile head of the OPCW, Ahmet Üzümcü, noted that Syria is likely to miss the June 30 deadline of transporting the remaining 8 percent of the chemical stockpile due to ongoing delays in transporting the materials.
The removal of chemical agents from Syria began in early January, following an agreement brokered by Russia, in which Syria renounced its chemical weapons arsenal and joined the convention on Prohibition of the Development, Production, Stockpiling and Use of Chemical Weapons.
The removal of toxic material out of the country involves transporting them to the port of Latakia, where they are shipped out using commercial vessels provided by the international community.