Moment Ukraine army shell hits Russian TV crew caught on tape (VIDEO)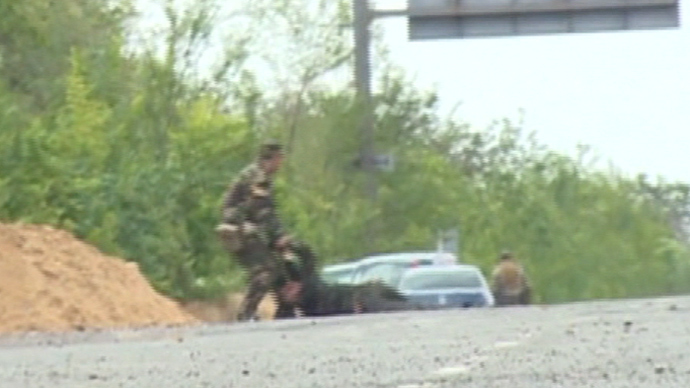 A TV camera recorded the moment Russian journalists (from Rossiya TV)came under fire while working near Lugansk, E. Ukraine.
Two journalists died from wounds sustained during the Ukrainian military barrage. Reporter Igor Kornelyuk passed away on the operating table, a doctor at a local hospital confirmed to RT. The second alleged victim, sound engineer Anton Voloshin, reportedly died at the attack scene.
2 Russian journalists killed in Ukraine military shelling
The footage was taken in Mirny, near Lugansk. After a first barrage the camera catches two distant figures taking shelter. The next mortar rounds targeted the area near the journalists. The camera is put down and turned over.
The footage was made by cameramen Viktor Denisov, the third journalist with the Rossiya channel crew.
Having escaped with locals he told Vesti: "I ran over to our guys and to the soldiers wounded in the explosion, while trying to get some footage and help people to safety. We walked for a kilometer… it was dangerous walking in the open," he said.
"Mortar shelling & explosions could be heard the entire time. Shrapnel flew at us".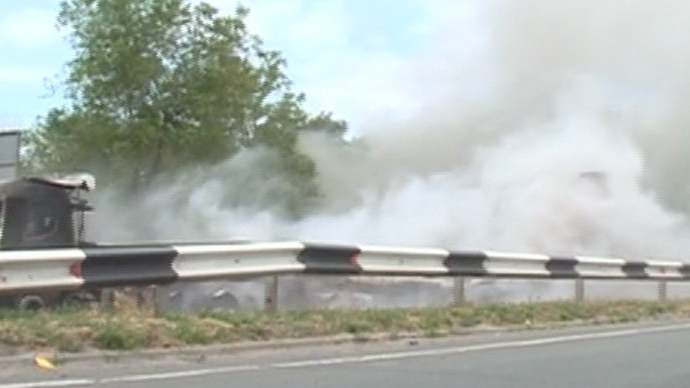 Several local residents were filmed in the explosion aftermath as was a man in camouflage that was allegedly dragging a body.
A few moments later two more blasts hit, followed by a column of dark smoke.
The crew's taxi driver told LifeNews the journalists took a direct hit. "Three journalists and 10-15 militias came under fire. We were standing at a traffic-police post at the entrance to Metallist. The journalists got out of the car to observe the fighting and capture the images. Literally a minute later, several shells hit them where they were standing".
He added that the journalists wore no bulletproof vests or helmets, but "even if they had, this would not have helped them."
You can share this story on social media: