​Russian ex-general commits suicide during interrogation amid corruption scandal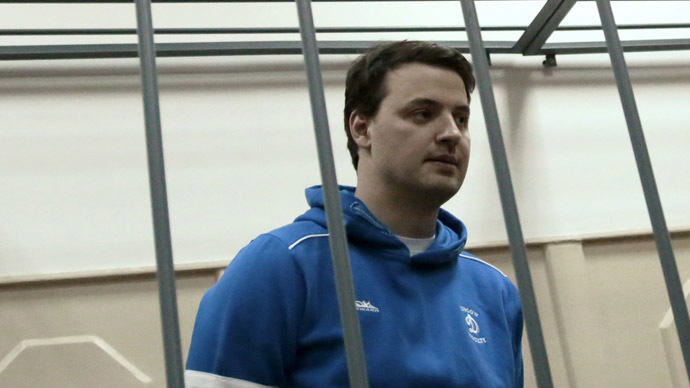 The former deputy head of the Russian Interior Ministry's anti-corruption department, Boris Kolesnikov, jumped off the balcony of the Investigative Committee building while being questioned on abuse of office allegations, the committee's spokesman said.
Kolesnikov – who occupied one of the top positions at the Interior Ministry's chief directorate, overseeing economic security and anti-corruption – was arrested in February 2014 over accusations he had abused his position.
He was being questioned on June 16 when he asked two guards to let him use the bathroom. Kolesnikov knocked them over while they removed his handcuffs and then jumped from the sixth story of the Investigative Committee building.
"During today's interrogation, he went to the toilet accompanied by two escort officers, his handcuffs were removed, he ran out of the bathroom, knocked down one of the guards, rushed to the balcony and jumped off the sixth floor. Kolesnikov died from the injury," said Vladimir Markin, official spokesman for the Investigative Committee.
A pre-investigation check into the matter has been launched, with Markin pointing out that Kolesnikov had attempted suicide twice before, while in pretrial detention.
Kolesnikov, one of the youngest officials of the Russian Interior Ministry to receive a general's title, was 36 years old at the time of his arrest. Along with his former chief Denis Sugrobov and several former subordinates, the young anti-corruption general was detained after an investigation was launched into their alleged involvement in organizing a criminal group, soliciting bribes, and exceeding their authority. Kolesnikov was one of the main suspects in the case, though no charges had been filed against him yet and the investigation was still ongoing.
Борис Колесников, главный фигурант коррупционного скандала в МВД, выбросился из окна здания СК.http://t.co/vRMZwIALbipic.twitter.com/0RjWsc3T9Y

— События дня (@GazetaRu) June 16, 2014
According to investigators, Kolesnikov and other former Interior Ministry officers previously attempted to frame a Federal Security Service (FSB) officer. They reportedly planned to pose as businessmen, asking the FSB to take their business "under protection" for US$10,000 a month. They then planned to accuse the officer of protection racketeering as soon as he took the bait.
Meanwhile, Kolesnikov's wife believes her husband was killed. "He was killed!The murder was attempted twice since May 5. All that's being said of the suicide is not true," Viktoria Kolesnikova told LifeNews, adding that she wasn't allowed to visit her husband after the arrest. "He could not have committed suicide. We have three little kids, he loved them so much," she said.
Kolesnikov's lawyer confirmed his client had suffered head trauma twice since his arrest and may have been subjected to physical pressure. While in pretrial detention, he was hospitalized with a head injury. The lawyer then said the general could not remember how he became injured. Moscow's public watchdog committee which supervises human rights conditions in detention areas was going to look into the case.
Russia's Constitutional Court gives relatives the right to protect the deceased's good name. If Kolesnikov's family wants to continue, his case may still be brought to court. The other detained former anti-corruption officers face up to ten years in prison if found guilty.