At least 50 killed as Somalia militants target hotels, bank and police station in Kenya town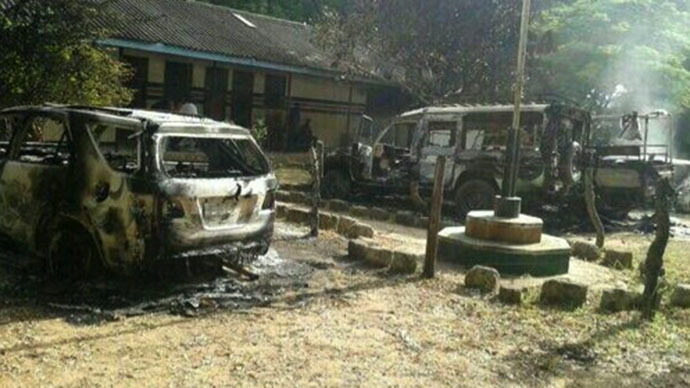 Dozens of Somali extremists besieged a small Kenyan coastal town for hours, slaughtering at least 50 people during an assault which saw a police station, banks, restaurants, government offices and hotels razed to the ground.
The assault kicked off around 8pm local time (17:00 GMT) on Sunday night as residents in the town of Mpeketoni were watching World Cup matches on TV and security forces were caught unawares.
Gunmen with covered faced reportedly threw explosives in the local police station before entering and stealing several weapons. The extent of the damage is wide-ranging, with social media showing images of banks, petrol stations and cafes completely burnt out. Major news agencies have also reported two hotels, banks, restaurants and government offices being decimated in the attacks.
Gruesome images coming in, #MpeketoniAttackpic.twitter.com/l9cRQVfTyq

— Ali olow (@AliOlooAli) June 16, 2014
Authorities blamed Al-Shabaab, Somalia's Al-Qaeda-linked terror group.
"There were around 50 attackers, heavily armed in three vehicles, and they were flying the Shabaab flag," Benson Maisori, deputy commissioner for the district, told AFP.

"They were shouting in Somali and shouting 'Allahu Akbar,'" he added.
Kenya's top police commander, David Kimaiyo, said four dozen people were killed in the ensuing attack. Later on Monday, Kenya Red Cross regional director for the coastal area, Muiruri Kinyanjui, told Reuters the death toll was at least 50. Kinyanjui fears that figure could rise, as many residents were still unaccounted for, while others had suffered serious injuries. Others fled to the nearby forest for safety.
Al-Shabaab later released a statement claiming responsibility for the attack.
One police commander told AP that gunmen stormed the Breeze View Hotel, where residents were watching the World Cup. The commander, who insisted on anonymity, said the militants pulled the men aside and ordered the women to watch as they killed them. The gunmen reportedly told the women that that is what Kenyan troops are doing to Somali men inside their own country.
Leonard Omollo, Lamu County police commander, confirmed to Reuters that all of the 48 killed were men, though he was unwilling to speculate at the tome on who the perpetrators might have been.
"All the dead are men. There are no women or children, and this fairly complicates matters. We may not tell immediately whether the attacks were done by Al-Shabaab, the MRC [Mombasa Republican Council] or just mere criminals," Omollo said.
The burnt out Taweel Cafe & Petrol station CC @FerdyOmondi#MpeketoniAttack . . pic.twitter.com/NaPeqjkJnM

— Sewe Saldanha (@ClanSewe) June 16, 2014
The MRC is an illegal movement that wants the coastal region to secede. It has not recently been linked to attacks of this scale.
Mpeketoni, some 60 miles (97km) from the Somali border and 360 miles (579km) from the capital, Nairobi, is not highly frequented by foreign visitors. It is, however, about 30 miles southwest of the tourist center of Lamu, a UNESCO world heritage site and the country's oldest continually inhabited town.
Several foreign tourists were kidnapped in the region in 2011, providing one pretext for Kenya to launch military operations in Somalia. Those events, coupled with terror warnings, have severely dampened foreign tourism in the area.
In #MpeketoniAttack, only men being killed and houses, business premises torched! leaves trail #Kenyapic.twitter.com/oHYrct1FLR

— Alinoor (B) Moulid (@AlinoorMB) June 16, 2014
Al-Shabaab has vowed to carry out terror attacks to avenge the Kenyan military presence in Somali. At least 67 people were killed in September when four Al-Shabaab gunmen attacked an upscale mall in the Kenyan capital, Nairobi. Kenya sent it troops to Somalia in October 2011, where a 22,000-strong African Union force is currently fighting Islamists.
The militants vowed revenge, carrying out a string of brazen attacks including one on Nairobi's Westgate mall in September 2013 in which at least 67 people were killed.
You can share this story on social media: