'Not safe for our children!' Mothers with kids flee Kiev crackdown in Lugansk
A mother anxiously hugs her baby, a teenager fears for his father staying in the besieged city, and a little girl doesn't know why her grandpa can't come on the bus. These refugees are just some of those fleeing Lugansk to escape Kiev's crackdown.
"It is not safe for them [children] to stay here after everything that is happening. We want them to stay alive," a crying woman hugging her small daughter close to her heart told RT's Paula Slier, who spoke to refugees from the eastern Ukrainian city of Lugansk.
Read more on besieged Slavyansk as the city is under fire, without water and power due to Kiev's shelling
The refugees have been forced to leave the troubled city since Kiev intensified the military crackdown on the country's east. Now families, packing their bags into buses and crying, are leaving for an uncertain future.
"We don't know what will happen there and for how long this situation will continue. We want to return home as quickly as possible," Olga, another refugee, told RT.
The residents have been on the waiting list for days. One woman told RT that she received a phone call in the morning which told her that she had less than four hours to pack her things and leave Lugansk.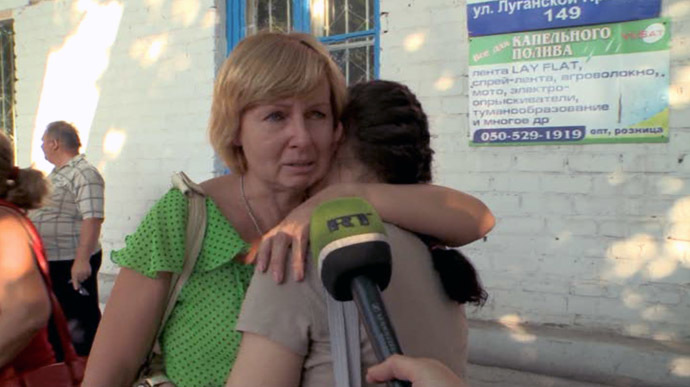 "The airplanes and the bombings are the scariest because you don't know where they're going to fall and when. We can't always stay inside a basement because of the small children," says Victoria, another mother who is traveling with her daughters and like all women in the bus have had to leave her husband and her family in the besieged city.
Victoria's small daughter, a small girl of at least four year old, doesn't understand why the other members of her family can't go with her to the safe place.
"I told my father and grandmother that I want to come home to them," she adds.
"My grandfather, grandmother and my father stayed behind," adds Olga's daughter.
Meanwhile, many refugees feel torn and almost abandoned about taking the decision to leave. Valera, a teenager from the troubled city says that he worries about his father who has been left behind.
"It's really hard because I probably won't see him for a very long time. It could be months. It could even be years," Valera told RT.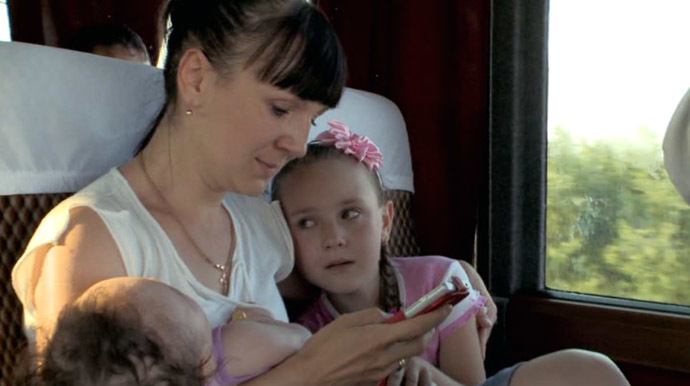 However, it's scary to sleep at night in the besieged city, says the teenager, adding that "the bombs might fall any minute."
Paula Slier was travelling with Lugansk refugees in the bus to the Russian-Ukrainian border.
"I congratulate every passenger with crossing the border to Russia," a border guard told the tired mothers who have been long seeking calm future for their children. His words were immediately met with cheers.
The refugees from all parts of eastern Ukrainian continue to arrive in Russia to escape Kiev's military operation. The citizens of another eastern city, Slavyansk, who are now living without tap water, are also leaving the city. A driver who said he evacuates at least 10 residents a day from Slavyansk told RT that Ukrainian troops only let women and children leave the city, but they are forced to walk through the checkpoints.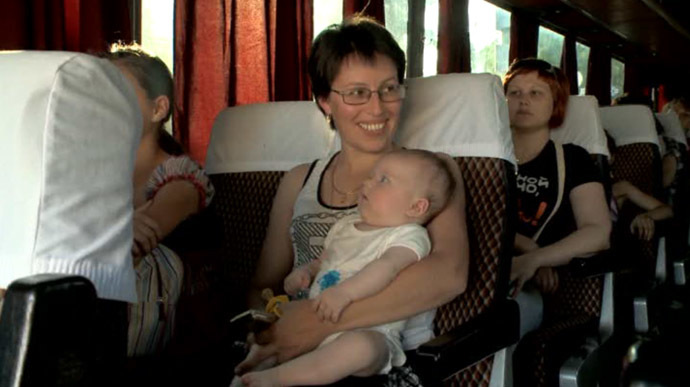 After the recent shelling of the church in the center of Slavyansk, many residents are strongly determined to leave the besieged city.
Slavyansk kids and women cross Russian border on foot after Ukraine seizes bus
Overall, over 12,000 people from the crisis-torn country have arrived in Russia, according to data from June 6.
According to authorities in Russia's Rostov Region, about 20,000 women and children from Ukraine's southeast have crossed the border into in the last three days, say. At least 7,335 Ukrainian citizens have entered the region in the last 24 hours, they add.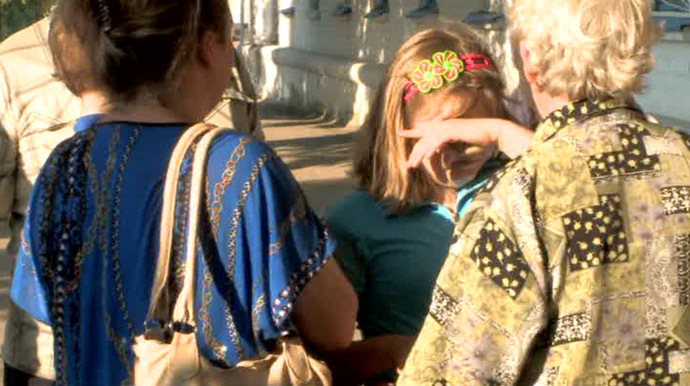 You can share this story on social media: