D-Day Veteran: We pressed forward, ignoring those who fell – nothing like 'Saving Private Ryan'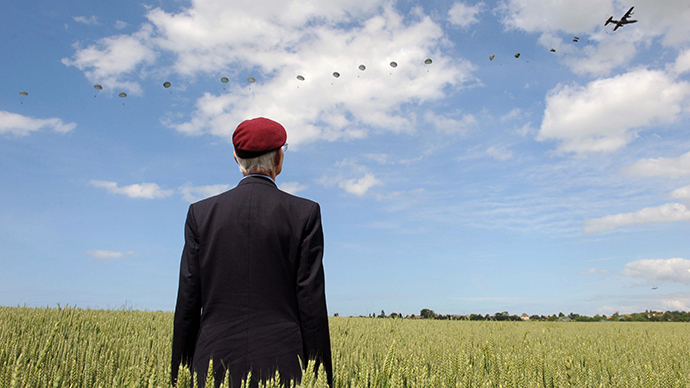 Running through minefield to their target, leaving wounded behind – in hope that medics landing next would survive to take care of them, and marking improvised hospital with blood-strained sheets, are some of the memories D-Day veterans shared with RT.
Walking on mines in Normandy
The Germans were so astounded with the scale of the landings in Normandy that they must have panicked, Léon Gautier, a French commando who landed on a beach codenamed Sword on D-Day, recalls how his troops were taking German blockhouses.
"When you see so many vessels arriving in front of you, so many men landing on the beaches, and if you are anywhere close to it – something must happen to you," Gautier said. "After all, the Germans are human beings, just like anybody else."
There was a minefield between the coastline and blockhouse Gautier's unit was instructed to capture – with only seven tanks equipped with mine-clearing flails.
"These seven tanks were all blown up and burst into flames, so we crossed this minefield fully aware of what could happen, but no mine exploded," Gautier remembers. "Our commander Kieffer told us: 'Maybe only a dozen of you will come back, but I want you to take the blockhouse.'"
Nothing like 'Saving Private Ryan'
"We had to ignore those that fell, not like in 'Saving Private Ryan' where a guy took care of his fallen fellow. For us such things were impossible," the veteran said. "We must take this blockhouse! If a pal next to you falls – it's not your business. There are others landing behind, medical units, that will take care of the wounded. We had a job to do."
"We had to move forward… it was hammered in our heads," he said.
Leon Gautier belonged to the small group of French who joined to the British commandos – an "extremely disciplined" elite unit which underwent hardcore training before the operation.
"That's why they had fewer losses than Americans," Gautier says. "The American armament and equipment were of great support, that's true. Nothing could have worked had we not had American armament – and American troops after all."
"But it's a pity they didn't train these men better, because their deaths made their mothers and their families weep. All those young people who just died like that. For the liberation of another country."
Blood-stained Red Cross
A resistance member in Caen, France, remembers that many of his friends, especially some belonging to the resistance, had been among thousand killed after the first bombings on D-Day.
"It was such a disaster to see not only already thousands of people killed on the first day, but also the fact that there were not enough stretcher bearers – most members of the civil defense had also been killed," André Heintz remembers. "So I immediately volunteered in the early afternoon of D-Day with the Red Cross."
"They sent me with an ambulance to pick up some wounded people… And we were almost immediately bombed."
As bombs were falling in the middle of an improvised hospital while they were picking up wounded from the ruins, Heintz remembers his sister – who was a nurse – begging him to "do something." There was nothing that showed it was a hospital and they couldn't find any paint to draw a red cross, so they took operating theatre sheets, "already red with blood" and stained them some more.
"As we were stretching the sheets, a plane came through the clouds – which hung very low on that morning of D-Day – watched us making that improvised red cross and immediately waved its wings to say that it had recognized it was a hospital."
You can share this story on social media: