D-Day 70th anniversary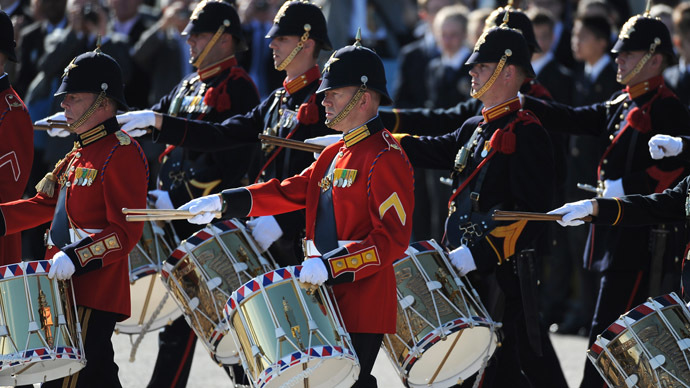 World leaders, including Russian President Vladimir Putin, have flocked to France to mark the 70th anniversary of the D-Day landings in WWII. Amid the celebrations, many of the official meetings have focused on the Ukrainian crisis.
06 June 2014

15:06 GMT

Interpretive dance is used to commemorate The D-Day anniversary.


14:30 GMT

Hollande: "This isn't just a day that remembers the dead, but obliges the living."

14:19 GMT

Hollande says we should recognize the contribution of Soviet forces in battling to free the world from fascism, and says German victims of the Nazi terror should also be taken into account.

14:17 GMT

Hollande has called for the five beaches where Allied Forces landed in Normandy to be recognized as UNESCO World Heritage sites.

14:15 GMT

Hollande tells the veterans in attendance: "Thanks for having been there. You'll always be remembered on this beach."

14:11 GMT

Speaking at the D-Day Ceremony, President Hollande said "We have a duty of memory to all victims." Regarding those who served in 1944, he said "For them, 20 was the age of duty... The age of sacrifice."

13:55 GMT

Vladimir Putin has met with Ukraine's president-elect Petro Poroshenko amid the celebrations to mark the 70th anniversary of D-Day. Both leaders agreed that bloodshed in Ukraine should be stopped immediately, according to the Kremlin press secretary, Dmitry Peskov. Military actions on the part of Kiev as well as pro-federalization protesters should also be ended, Putin and Poroshenko said.

13:55 GMT

Vladimir Putin has met with Barack Obama in the Chateau de Benouville, Normandy, where world leaders arrived for lunch. Putin and Obama spoke briefly on the situation in Ukraine and the crisis in the country's east, said Putin's press secretary, Dmitry Peskov.

"Putin and Obama spoke in favor of immediately reducing violence and military actions [in Ukraine]," he added.