Psaki in firing line? RT pleads 'not guilty' over Jen demise rumor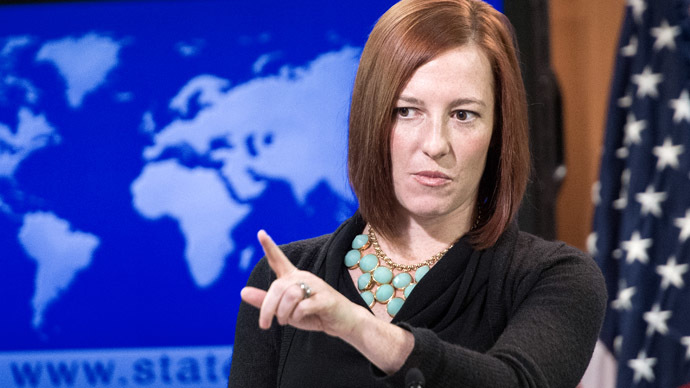 US State Department spokesperson Jen Psaki has a number of indefensible claims under her belt. But while some could merit at least minimal consideration, she really hit the jackpot with inexplicable allegations that RT spread rumors of her being fired.
Despite the Russian propaganda machine suggesting otherwise..I am still here as is a strong, democratic Ukraine #dontbelieveRT

— Jen Psaki (@statedeptspox) June 6, 2014
Amid the initial confusion, some social media users were saddened, before Psaki moved to reassure them.
But concerning the allegations, couldn't the spokeswoman simply have provided a link to the apparent propaganda? The RT team was just as perplexed as everyone else today.
Псаки везде чудятся происки РТ. Милая Джен! Мы не писали, что Вас уволили! Если бы Вас уволили, мы бы не могли писать - мы бы рыдали!

— Маргарита Симоньян (@M_Simonyan) June 6, 2014
"Psaki is under the illusion that there is RT scheming all around her. Dear Jen! We did not write of your firing! If you in fact had been fired, we couldn't write – we would weep!", RT Head Margarita Simonyan tweeted.
Apparently, some rumors suggesting Jen Psaki had been fired originated on Thursday in the type of blog-like, independent media that have nothing to do with the Russian government - let alone RT. They often jump at the opportunity to raise tension every time a 'big one' happens – all because Psaki's deputy, Mary Harf, had attended a recent State Department briefing in her stead.
In short, no one knows how or why the Friday news that's got everyone hot and bothered was circulated. Or why Psaki decided to lash out at RT.
In any case, support was soon at hand, as Twitter hashtags began popping up begging the powers that be to #SavePsaki, if only for the comic relief she provided.
@statedeptspox Jen, if you do not know what the Russians have created tag #SavePsaki. We love you! You're the best comic actor in the world!

— Дмитрий Орлов (@dao47rus) June 6, 2014
@APDiploWriter I was afraid that @statedeptspox were laid off. I'm really happy I can follow her effervescent press conferences! #SavePsaki

— AK (@aleko_lv) June 6, 2014
Was always fun to listen to comedian @statedeptspox Psaki! You will be missed The hypocrisy was great #BringBackOurPsaki#SavePsaki@RT_com

— Omar (@amouri) June 5, 2014
Some even parodied official claims by Russia's Ministry of Foreign Affairs, as well as President Putin himself. The following was taken during a recent official meeting:
#SavePsaki :) ))) pic.twitter.com/9BWTtHcXkP

— ☾✫Кристина Сазонова✫ (@Kristina_Ankara) June 5, 2014
Then there was the seriousness with which the matter was approached by former US Ambassador to Russia Michael McFaul. In an apparent bid to accuse the Russian mentality of generally deriving pleasure out of spreading lies, the recent Moscow resident weighed in.
Только русский человек оценит этот тонкий английский юмор...,#SavePsakipic.twitter.com/bALvPTvxIn

— Julya Shastun (@JShastun) June 6, 2014
Russian representative to the UN Vitaly Churkin was quizzed on Psaki's apparent disappearance. He told Russia 24 he had no idea where she'd gone, but expressed sincere hope Jen would be back, as "I've always derived great pleasure from listening to her speak."
WATCH: Jen Psaki's most embarassing fails, most entertaining grillings