Caught in conflict: Сritically ill baby stuck in Ukraine's Slavyansk amid bloody fighting
For days, amid fierce fighting, a seriously ill 8-month-old Zhenya was awaiting evacuation from a children's hospital in Slavyansk, eastern Ukraine, which has repeatedly been shelled by Kiev's military jets.
During intense fighting in the city, other children in the hospital were taken down to the cellar. But -month-old Yevgeny Yezekyanhad to remain in the ICU, so he was "covered by mattresses" to save him from shell fragments, Natalia, a local resident who knows the boy's mother, told the Moskovsky Komsomolets newspaper.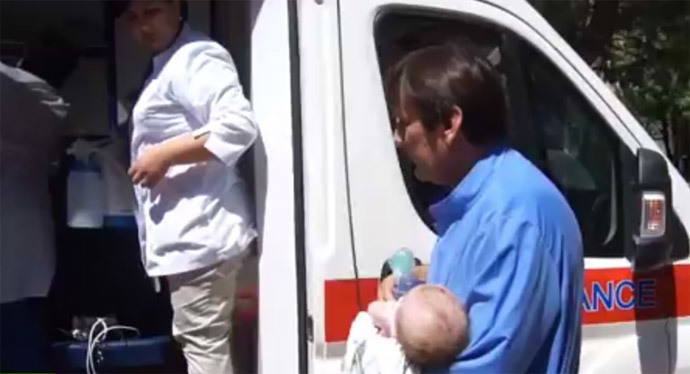 All other patients had been evacuated to safer places and only a few medical personnel taking care of Yevgeny and the boy's parents remained in the hospital.
"The child has spinal [muscular] atrophy, or Werdnig-Hoffmann disease. He continues to be on artificial pulmonary ventilation. The condition is serious but stable," the boy's doctor, Vladimir, told RT's video agency Ruptly.
The problem was that the boy's parents want Yevgeny to be taken to Russia by mobile ICU, while local authorities insist that the baby should get treatment in Ukraine.
Finally, the differences were ironed out and on Thursday afternoon the boy was taken out of the embattled town to be evacuated to Russia.
Zhenya will be taken to a regional hospital in Rostov-on-Don, according to Russian children's rights ombudsman Pavel Astakhov.
"His mother and sister are with him," he tweeted.
Kiev launched a military, or "anti-terrorist," operation in southeastern Ukraine in mid-April to suppress the pro-autonomy movement in the Donetsk and Lugansk regions. Protests in the areas began shortly after the February coup, which ousted President Viktor Yanukovich and brought to power new authorities, considered nationalists or even "fascists" by many in the regions where many speak Russian.
The ongoing fighting has already resulted in dozens of victims and, as the confrontation intensifies, authorities of the self-proclaimed People's Republic of Donetsk (DNR) decided to evacuate civilians from the territories where Kiev is carrying out its military operation.
"I'm holding talks with Crimea and the Rostov region," Leonid Baranov, the head of the republic's committee for refugees, told RIA Novosti. He also denied earlier allegations – voiced by Ukrainian railways press-service - that the DNR had not allowed the evacuation of orphans from Lugansk.
You can share this story on social media: