Orphanage under fire as Kiev forces shell Slavyansk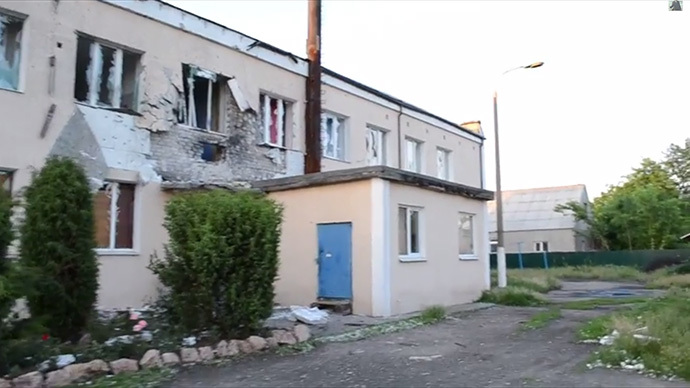 Several buildings, including an orphanage, have been severely damaged by artillery fire in Slavyansk, eastern Ukraine, where fighting between self-defense troops and Kiev's army renewed over the weekend.
Fortunately, there were no casualties among children at Sails of Hope orphanage, as all of them were evacuated after the building previously came under fire on May 19.
Побывал у обстрел.дет.приюта на Серафимовича,62 #Славянск. Карачун в прям видимости,ближе,чем от несчастн.бронепоезда pic.twitter.com/8hw8PGKQMQ

— Андрей Краснощёков (@a_krasnoschekov) June 1, 2014
This is the third time that the orphanage has been shelled. Its windows are now shattered, and its roof and walls are riddled with bullets. There is a massive hole under a window. The building is likely to not be repaired, meaning Sails of Hope will be forced to find a new home.
Украинская армия поздравила детей #Славянск артобстрелом по Детскому дому "Паруса Надежды" pic.twitter.com/dhNr8UhJub

— СЛАВЯНСК - НАШ ГОРОД (@Nash_Slavyansk) June 1, 2014
Украинская армия поздравила детей #Славянск артобстрелом по Детскому дому "Паруса Надежды" pic.twitter.com/5tSsJPzcxc

— СЛАВЯНСК - НАШ ГОРОД (@Nash_Slavyansk) June 1, 2014
On Wednesday, the Ukrainian military shelled a residential area of Slavyansk, hitting a children's hospital, a school, and a kindergarten.
Another facility shelled on Sunday, the Scientific and Research Institute of High Voltages, is some six kilometers away from the orphanage. The building sustained severe destruction, as a mine exploded on the road in front of it. According to reports, five civilians received shrapnel wounds.
Walking distance from the institute, the Slavtyazhmash plant – which produces heavy machinery for coal mining – was also targeted by artillery fire. As a result, part of the building burst into flames.
"The plant was fired at from Karachun Mountain, where the Ukrainian army's artillery is deployed," RIA Novosti quoted a self-defense representative as saying.
The already turbulent situation in Donetsk and Donetsk region – where the city of Slavyansk is located – significantly deteriorated after the presidential elections on May 25, when Ukrainian troops intensified a military operation in eastern Ukraine.
Meanwhile, several funerals of those killed in Monday's shelling were held in Slavyansk on Wednesday. According to the latest reports, four people have died from shrapnel wounds since then.
While Kiev authorities continue to assert that the military action in the southeast is meant to protect the people against "terrorists," many on the ground in Slavyansk have a directly opposite opinion on the issue.
"We are simply horrified – you see? Horrified that our 'brave army,' which we pay taxes to maintain, is [doing] nothing else but destroying us. And our president, who must protect the civilian population – he is determined to exterminate us," a woman working at the damaged school no. 13 told RT's Ruptly news agency.
"For some reason, they think that we here in Slavyansk are all terrorists," the woman said.
You can share this story on social media: