Shells hit hospital as Ukrainian army resumes strike on Slavyansk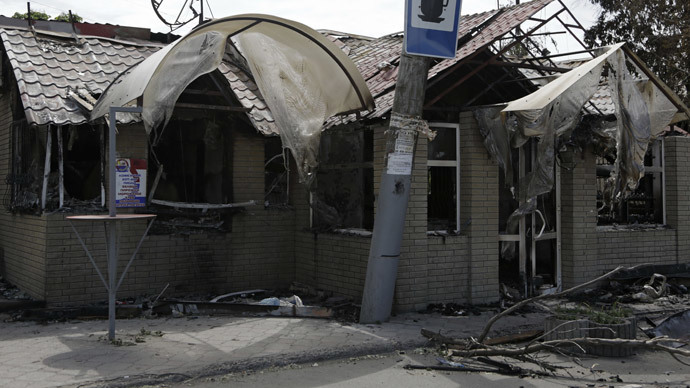 Kiev's troops renewed the shelling of Slavyansk on Friday morning, residents told RT. A local children's hospital and a clinic came under fire. There are no reports of injuries.
Read RT's live updates on the violence in Ukraine
"This morning they hit the children's policlinic in the center of the city and the reception ward of the children's hospital. It was at 5 am," Vladimir, a Slavyansk resident, told RT.
"The hospital and the policlinic stand close to each other. The hospital was damaged worse than the policlinic," another resident said. "There were no victims."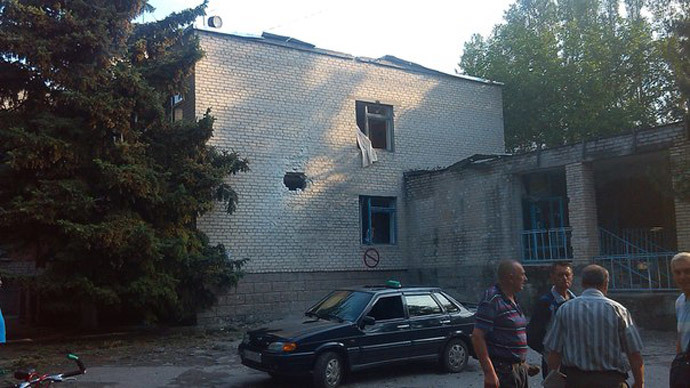 There were some children staying in the hospital at the time of the attack. They were all taken to the building's basement for cover after the shelling started, said Olga, a nurse working there.
"I've worked here for 30 years, and I never thought I would have to come to a ruin to do my job. That's our government and our 'valorous' Ukrainian troops for you," she said.
Kiev said it did not use artillery on Friday and claimed that it was the militia, who trained their own guns on the hospital to put the blame on the Ukrainian military.
Troops loyal to Kiev intensified the military crackdown on the militias of the self-proclaimed Donetsk People's Republic in mid-April. They are using artillery, aviation and armor in a bid to take control of the restive region.
The military operation in eastern Ukraine will continue until the region"can live and function normally and the people are calm," acting Defense Minister Mikhail Koval stated on Friday.
Slavyansk has been in the focus of the confrontation, which has claimed dozens of lives, both among the belligerents and local civilians.
Детская больница после утреннего обстрела. 30.05.2014 #Славянскpic.twitter.com/REsU4r50WX

— СЛАВЯНСК (@Sloviansk) 30 мая 2014
Детская больница после утреннего обстрела. 30.05.2014 #Славянскpic.twitter.com/oKTnXy1hg4

— СЛАВЯНСК (@Sloviansk) 30 мая 2014
The militias are holding off the attacks through a combination of guerrilla tactics and weapons seized from the Ukrainian troops. They scored a major success on Thursday, when they shot down a helicopter carrying one of Kiev's generals.
Some people in Slavyansk believe that Kiev's troops will now retaliate for the general's death and devastate the city.
You can share this story on social media: