Israeli doctors refuse to force-feed Palestinian prisoners, despite govt pressure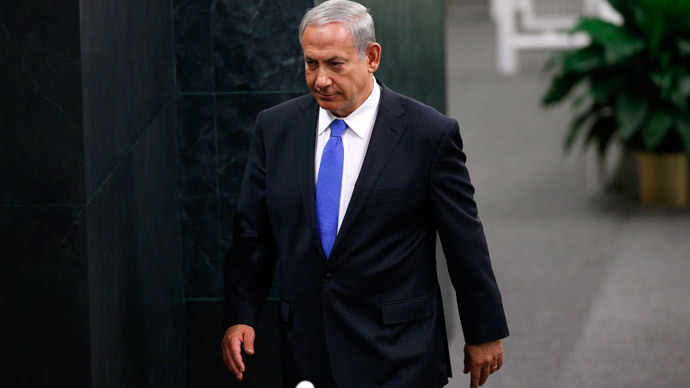 Israeli doctors have said they will not begin force-feeding Palestinian detainees who have launched a hunger strike demonstration, an announcement that puts medical professionals on a collision course with Prime Minister Benjamin Netanyahu's government.
No less than 65 of the 290 striking prisoners have been hospitalized as a result of the hunger strike, a plight inspired by their months and years in detention in Israel without being charged with any crimes. Daily rallies have been held in support of the prisoners by the Palestinian community.
As a result of the growing hunger strike, Prime Minister Netanyahu has reportedly asked the government to speed up a bill giving them permission to force-feed the dozens of hospitalized inmates. The measure would give a judge permission to enact force-feeding if he or she considers the inmate is putting his own life at risk.
Yoel Hadar, a legal adviser to the Netanyahu administration, told the Associated Press the bill would also force a judge to consider if a striking inmate is deemed to be putting the interests of the state at risk (the death of a hunger-striker would almost certainly add to the unrest in the Palestinian Territories and contribute to criticism about Israel's policy on this matter).
"We want the judge to take into consideration what will happen to the country if something happens," he said. "People go on a hunger strike for political reasons...and the consequence could be political damage to the state. The state also has the right to stop the strike."
Netanyahu has said he is confident the force-feeding will eventually be carried out, citing the US policy of force-feeding hunger-strikers at the Guantanamo Bay prison in Cuba. The Guantanamo policy has drawn criticism from the United Nations human rights office, which said it constitutes torture and is thus a violation of international law.
Family members of the inmates told the AP they support their relatives, if only because the detainees face no other alternative. Lamees Faraj said Wednesday that her husband Abdel Razeg, once a member of the Palestine Liberation Organization, has been locked up in administrative detention for almost eight of the past 20 years.
"My husband is in Israeli jails without knowing why and when this nightmare is going to end," she said.
Family members who are opposed to the force-feeding, a brutal process in which a person is fed via a tube forced into their nose, now have support from a growing number of medical groups and organizations.
The Israel Medical Association has asked its doctors not to follow any orders from government officials that ask them to force feed an inmate. The World Medical Association, the group many national associations fall under, said "force feeding is never ethically acceptable" as recently as 2006.
"It goes against the DNA of the doctors to force treatment on a patient," Israel Medical Association spokesman Ziva Miral said. "Force-feeding is torture, and we can't have doctors participating in torture."
There are currently an estimated 900 Palestinians currently imprisoned in Israel, which claims it has not choice but to lock up perceived enemies in order to prevent attacks on the military. One tactic the government has traditionally used is administrative segregation, intermittently imprisoning detainees for long periods under the guise of security.
"It is outrageous that Israel has locked these men up for months without either charging them with crimes or allowing them to see the evidence it says it has against them," Sarah Lee Whitson, the Middle East director at Human Rights Watch, said in a letter to US Congress.
"The detainees evidently feel they have to put their lives in jeopardy through hunger strikes so that Israel will end these unlawful practices. Israel's regular use of administrative detention, at the least, inverts international law and turns the exception into the norm, at the cost of the fundamental right to due process."
You can share this story on social media: