US may soon train Kiev's military, Obama tells Ukraine's president-elect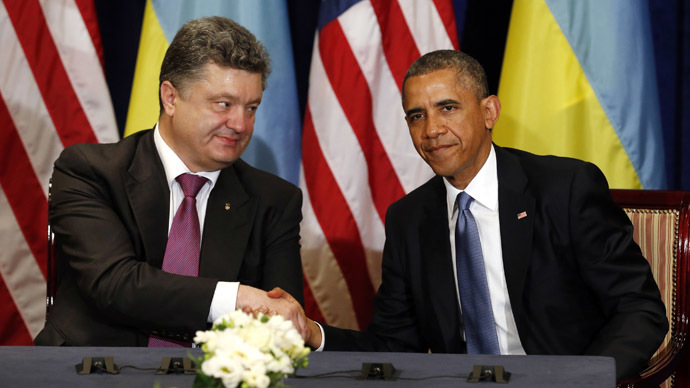 The US has pledged additional military help to Ukraine as well as potential training of its law enforcement and military personnel. President Obama's vows comes as Kiev continues air strikes as a part of its military operation in southeastern Ukraine.
Obama pledges $1bn for more troops, military drills in E. Europe
Since March, the White House has approved more than $23 million in security assistance to Ukraine. Now the US is providing additional $5 million aid for "the provision of body armor, night vision goggles and additional communications equipment."
The White House said other aid for Ukraine has included 300,000 ready-to-eat meals and financing for medical supplies, helmets, hand-held radios and other equipment.
"The United States is absolutely committed to standing behind the Ukrainian people not just in the coming days, weeks, but in the coming years," Obama said.
Obama said it was critical that other countries also support Poroshenko and Ukraine's new government, including by training its military and police.
Obama's statement comes a day after he pledged to invest $1 billion in stepping up the US military presence in Eastern Europe amid the Ukrainian crisis.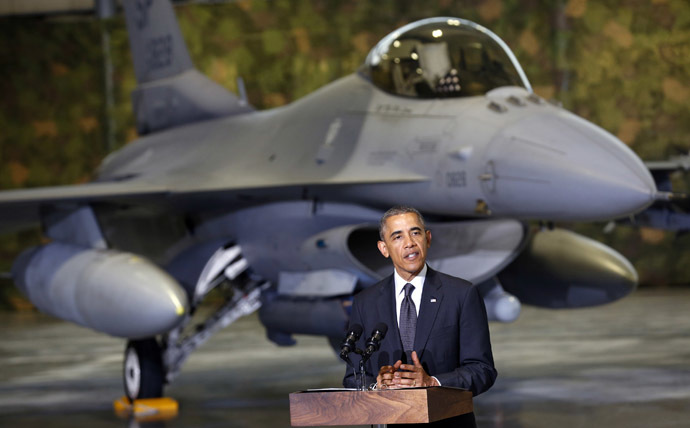 So far the US has deployed 600 troops for military drills in Estonia, Latvia, Lithuania, Estonia and Poland.
"As allies, we have a solemn duty - a binding treaty obligation - to defend your territorial integrity. And we will," Obama said, according to Reuters. "Poland will never stand alone. Estonia will never stand alone. Latvia will never stand alone. Lithuania will never stand alone. Romania will never stand alone."
At a separate meeting in Brussels, NATO has said that as an alliance it will not provide military assistance to Ukraine, although individual member states can do so.
NATO said it would "will finalize a comprehensive package of long-term measures to make Ukraine's reforms more effective and its armed forces stronger" later this month.
"We agreed that we will continue to reinforce NATO's collective defense with more air and sea patrols and more exercises and training from the Baltic Sea to the Black Sea and the Mediterranean," NATO Secretary-General Anders Fogh Rasmussen said.
President Obama has called Poroshenko's victory in the May 25 election a "wise selection."
Confirmed: Ukrainian air force fired over 150 missiles at Lugansk, bombed admin HQ
Speaking to reporters after the meeting, Obama said the two discussed Poroshenko's plan to restore peace, increase GDP and reduce the country's economic dependence on Russia.
"In my discussions with him today it's clear he understands the hopes and aspirations of the Ukrainian people," Obama said.
Billionaire Petro Poroshenko won Ukraine's May 25 presidential election and will be sworn in as the country's new leader on Saturday.
Poroshenko announced that Kiev would step up its military operation shortly after exit polls predicted his victory in the election, saying that Kiev's activities in the southeast of the country "will be more effective and military units must be better equipped."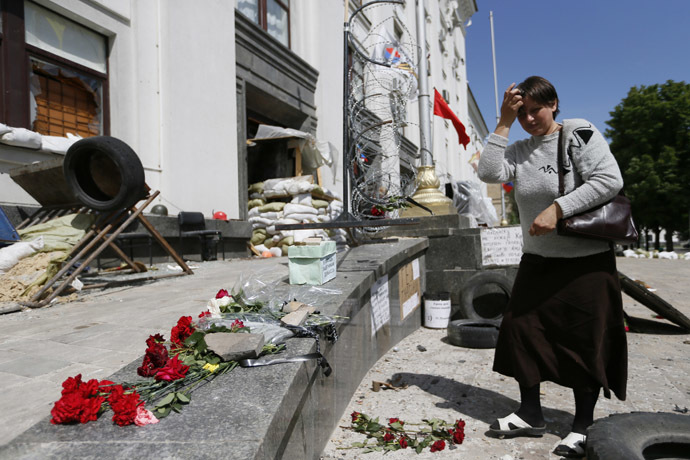 Following Poroshenko's statement, the situation in the Donetsk and Lugansk regions significantly deteriorated as clashes between self-defense forces and Kiev troops intensified. In the course of the following two days, Kiev deployed fighter jets and helicopters to attack Donetsk International Airport.
In Lugansk, Kiev admitted firing "more than 150 missiles" from fighter jets on Monday alone.
The total death toll as a result of the so-called "anti-terrorist" operation has so far been put at 181 people, including 59 of the ruling regime's troops. Another 293 injured people were injured. These figures were stated by the country's Prosecutor General, Oleg Makhnitsky, on Tuesday. However, it is unclear if the number of fatalities includes self-defense forces as well.
On Wednesday, the spokesman for the anti-terrorist operation, Vladislav Seleznev, said that 300 self-defense fighters had been killed in the last 24 hours. However, self-defense units denied these numbers, saying their losses in the last day were far fewer – two killed and 45 injured.
You can share this story on social media: