Abkhaz President resigns after days of anti-government unrest
Published time: 1 Jun, 2014 16:33
Edited time: 1 Jun, 2014 17:44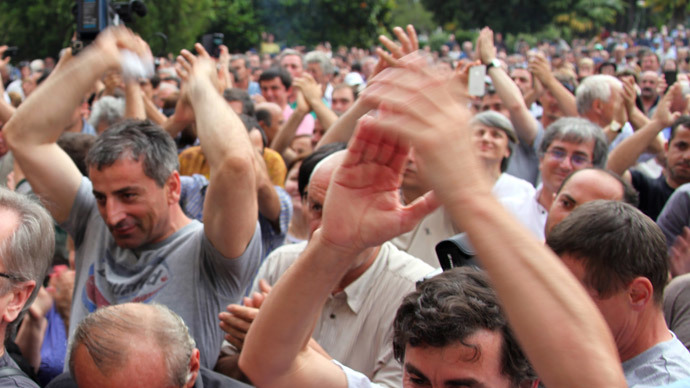 Abkhaz President Aleksandr Ankvab has resigned "for the sake of stability" following days of anti-government protests as opposition demands reforms and the government to step down.
"After numerous consultations with representatives of the public, voters, colleagues, and I have made the final decision. It does not meet the sentiments of most of our citizens and those with whom there was a search of the way out this situation. But, nevertheless, due to these circumstances, I believe this is the only right decision," Ankvab said in a statement released by state-run Apsnypress news agency.
"In order to preserve stability in the country, in accordance with article 65 of the Constitution of the Republic of Abkhazia, I resign from the post of the President of the Republic of Abkhazia," he said.
Aleksandr Ankvab has urged people to remain calm and not to call on mass protests as well as not to give in to provocations in order to preserve peace in the country and prevent a "catastrophe."
On May 29, the Abkhaz Parliament called on President Ankvab to step down after three days of unrest in the republic's capital of Sukhumi. Lawmakers adopted a declaration urging Ankvab to resign and passed a vote of no confidence on Prime Minister Leonid Lakerbaia.
The latter said that he would resign only if the opposition proves it can work efficiently rather than just expresses criticism.
Following the Parliament's motions, the Abkhazian opposition began to form an interim government.
The situation in Sukhumi escalated on Tuesday, when a united opposition, which claims the government's actions could ruin the country, organized a mass rally near the cabinet offices.
Demonstrators blamed authorities for alleged misrule, corruption, and stagnation in the country and demanded the resignation of the government and the president, the prosecutor general, and the heads of two regions.
Later in the day, as opposition leaders were negotiating with Ankvab, crowds of protesters seized administrative buildings in the city, a development the president called "an armed coup attempt."
On Friday, an opposition leader, head of the Forum of Abkhazia People's Unity party Raul Khadzhimba, said the opposition Coordination Council would take interim leadership over the republic.
Aleksandr Ankvab took up office in 2011, after previously serving as the region's premier and interior minister. Throughout his political career, he has survived several assassination attempts and has been wounded twice.
Russia has welcomed Ankvab's "generous decision," saying the crisis in the country was "peacefully resolved thanks to the wisdom of all participants of the negotiations."
Russian presidential aide Vladislav Surkov vowed Moscow's "financial and military" support to Sukhumi.
"There are no obstacles for bilateral work between Moscow and Sukhumi...Russia will continue cooperation with Abkhazia in all directions," Surkov said.
Russia officially recognized the independence of the Black Sea coastal republic and neighboring South Ossetia in August 2008, shortly after the so-called "Five Days War" which started after Georgia attacked the South Ossetian capital of Tskhinval.