Best shot ever? Fan hits Peru player with paper plane during WC friendly (VIDEO)
Published time: 1 Jun, 2014 10:48
Edited time: 1 Jun, 2014 10:49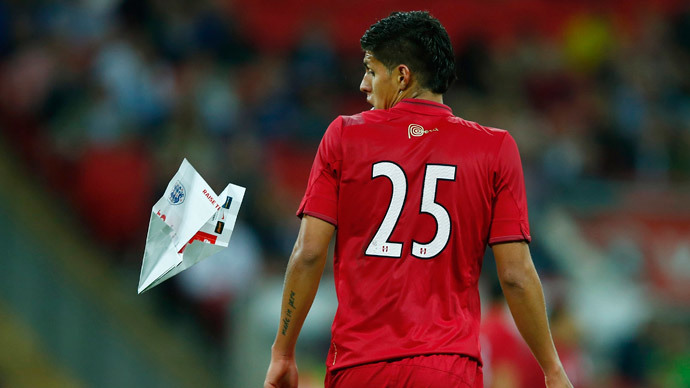 In a match on Friday, England beat Peru team 3:0 but that was nothing. The biggest cheers from more than 83,000 fans at Wembley Stadium were not for the victory of their squad, but for a perfect shot from a fan whose paper plane hit a Peruvian player.
A group of creative England fans were entertaining themselves during the match by making paper airplanes and launching them towards the field.
One of the paper lanes travelled… from the highest point in the stadium – and floated accurately into unsuspecting Peru defender Hansel Rojas hitting him lightly in the back of the head.
Rojas was clearly surprised by the 'paper attack' and was left totally confused.
"The best shot ever" brought almost hysterical cheers at the 83,000 stadium, shows the video uploaded on YouTube which has gone viral with nearly 1.4 million views so far.
The English team will continue preparations for the 2014 World Cup in Brazil from June 12 to July 13 with a warm-up match in Miami on June 4.