'Faster than Usain Bolt': Prehistoric carnivore inspires two-legged sprinter robot (VIDEO)
Published time: 30 May, 2014 20:13
Edited time: 31 May, 2014 09:05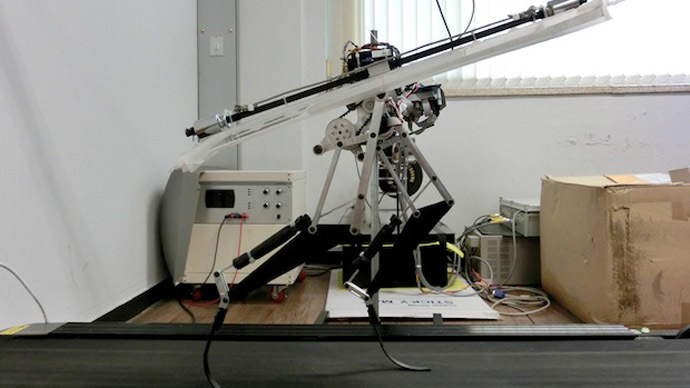 South Korean scientists have taken tips from the prehistoric Velociraptor dinosaur to build one of the world's simplest and fastest robots, capable of reaching a speed of 46 kilometers per hour (28.5 mph).
Just like the carnivore that roamed the earth 75 million years ago, the 'Raptor' robot has two legs and a mechanism that works like a tail. The machine was built by the Korea Advanced Institute of Science and Technology (KAIST).

According to the scientists behind the project, the spinning rod - which executes the function of the tail - provides stability to the robot, helping it navigate around obstacles.

The mechanism uses carbon/epoxy composite legs - which resemble the running blades used by amputees - for greater durability, IEEE Spectrum magazine reports.
While running on a treadmill, the Raptor is able to outrace the world's fastest man, six-time Olympic champion Usain Bolt, whose maximum speed reached is 43.92 km/hr (27.2 mph).

But the speed of 46 km/hr doesn't make KAIST's invention the world's fastest robot; it still trails Boston Dynamics' four-legged 'Cheetah' robot by 1 km/hr (.62 mph).
However, it's Raptor's simplicity – not its speed – which makes it stand out among other running robots that rely on multiple actuators.

Unlike its counterparts, the Korean robot - which weighs just three kilograms (6.61 lbs) – uses only one motor per leg and an Achilles tendon system to recover energy during motion.

The Raptor's control system is far from complicated as well; it operates on a simple running pattern generator computer program.

The KAIST team is now working on optimizing the robot's speed, stability, and control.