France is the terror capital of Europe, EUROPOL figures show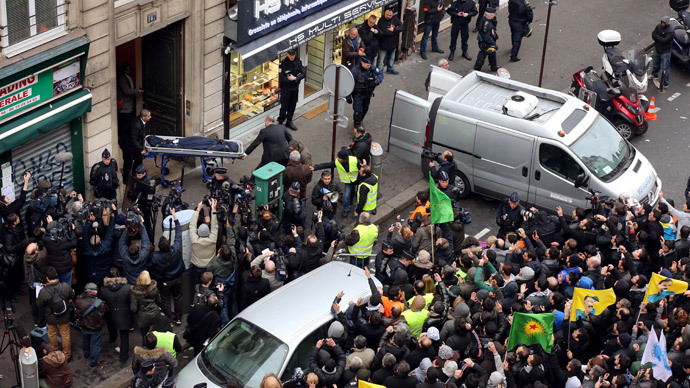 France is the terror capital of Europe, with 63 of the 152 EU-wide terrorist attacks in 2013 taking place in the country. There were 225 arrests in France for terror related offenses, and concern has spiked over radicalization of EU citizens in Syria.
"A total of 152 terrorist attacks occurred in five EU Member States. The majority took place in France (63), Spain (33) and the UK (35). After an increase in 2012, the number of terrorist attacks in 2013 fell below the number recorded in 2011," read the EUROPOL report published on Wednesday.
"The threat from terrorism in Europe remains strong, manifesting itself in various forms and driven by diverse motives," Rob Wainwright, Director of Europol said in a statement released alongside the report.
Several cases have been taken to court over the course of the year.
"In 2013, 15 EU Member States reported having concluded a total of 150 court proceedings on terrorism-related charges," the report noted.
"Be it right or left-wing extremism, separatism or religiously-motivated acts, we need to step up our work to respond to the threat of radicalization. Radicalization leading to violent terrorism is a gradual process and does not happen overnight. In times when populist movements and xenophobic winds are sweeping across Europe, it is more important than ever to keep this in mind," European Commissioner for Home Affairs Cecilia Malmström stated, according to France's 'The Local'.
Seven people were the victim of terror-related offenses across Europe in terrorist attacks in general, while 535 people were arrested for terrorism-related offenses.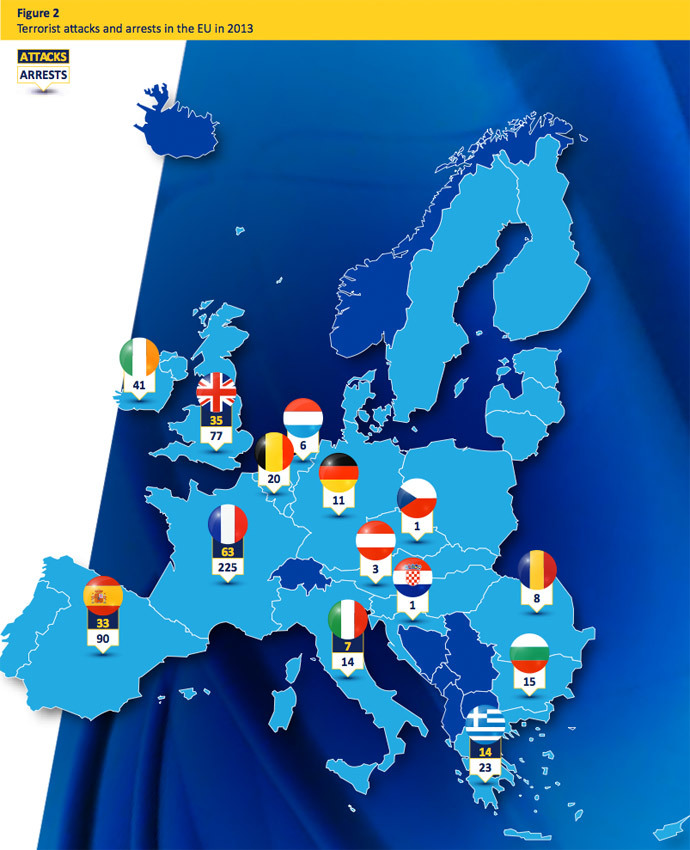 Three people were killed in the France attacks, according to the end-of-year publication. All of those who died in France were Kurdish women.
Additionally, across the rest of Europe a British soldier in London was killed – the report notes the high-profile case of solider Lee Rigby who was attacked with a meat cleaver in southeast London a year ago.
"The threat from self-radicalized, self-organized and self-financed individuals was underlined in 2013," the report stated, referencing the two British Muslim converts of Nigerian descent active in this particular case.
Two members of a far-right group in Greece were also killed over the course of 2013.
A particular worry is the increased threat from foreign jihadists returning to Europe from the Middle East.
According to the report: "In Austria, investigations suggest that there is an on-going trend with regard to fundraising among sympathizers of the jihadist spectrum. Terrorist financing included support for travel to Syria. In addition, there are a number of followers of the terrorist group 'Caucasus Emirate', an organization for which Austria (and Europe) appears to serve mainly as an area for financing, logistics and recruitment."
Syria was held up as a particular example of a potential fighting ground for people from the EU. "They may have gained the skills and contacts to carry out attacks in the EU," the report cautioned.
"The numbers of EU citizens traveling to Syria in particular, including those intending to fight alongside Al-Qaeda-affiliated groups, were already substantial and rising, and increased significantly in 2013. It seems likely that Syria will remain the destination of choice for prospective fighters departing from EU Member States, as long as the civil war there continues."
You can share this story on social media: