'War is a plague': Donetsk students' pacifist song leaves TV anchor in tears on air (VIDEO)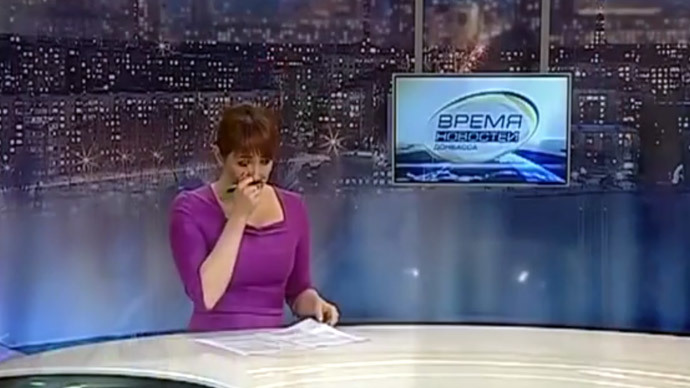 A TV presenter was left in tears on air as students from a high school in Donetsk, Ukraine performed a song calling for peace in the region amid an intensified military offensive in the area.
The video of the broadcast has been posted on the YouTube account of Donbass TV channel and has so far gathered thousands of views.
The song was performed by ninth grade students as part of a school play. After showing the video in the newscast, the TV presenter could not hold back her emotions and began to tear up.
"Our central message is for people who are responsible for the violence, asking them to stop the chaos as soon as possible — so there would be peace and no more war. War is like а plague, it is everywhere, it needs to be eliminated," Dmitry Vesov, one of the students signing in the video, told Donbass TV.
"Military operations are everywhere, blasts can be heard all the time. It is very scary for kids. Do we really have to see dead bodies in order to realize that we need to love and understand each other?" said Maria Severilova, another ninth grade student.
Kiev has intensified its military operation in southeastern Ukraine, increasing artillery strikes and bombings in the troubled regions.
On Wednesday, around 3,000 miners marched through the streets of Donetsk, protesting against Kiev's ongoing military operation in the country's east. The demonstrators, who then gathered at a central square for a rally, chanted "Fascism won't pass!" and "Donbass will not forgive!"
You can share this story on social media: