Russia to help Kiev establish dialogue with southeast if it ends military op – UN envoy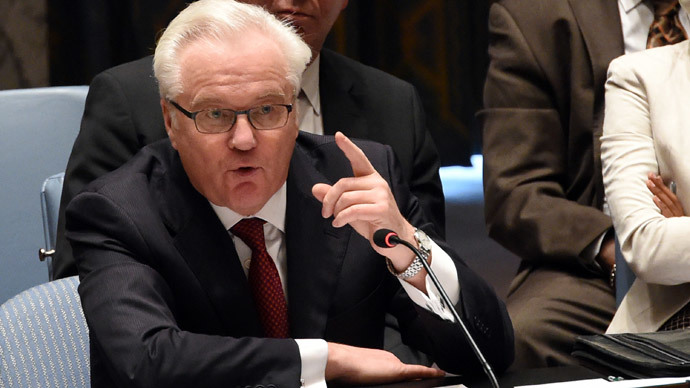 Russia will assist Ukraine in establishing dialogue with the southeast if Kiev stops its military offensive there, Russian Ambassador to the United Nations Vitaly Churkin said.
"Stop this military operation, and then we will help you with establishing dialogue," Churkin said in response to a speech made at the UN Security Council meeting on Wednesday by Ukraine's ambassador to the United Nations, Yuriy Sergeyev.
In his speech, Sergeyev accused Russia of kindling separatism.
"The problem of the troubled regions will not be solved with artillery strikes or bombing," Churkin stated. He stated that the new Ukrainian president must make the right decisions which will not lead to a dead-end.
Churkin also said that Russia is assisting efforts to release the detained group of OSCE observers in Ukraine, adding that a Russian citizen is among the observers.
"We're seriously concerned over the incidents with two groups of OSCE observers. A Russian citizen was in one of them," Churkin said during the UN Security Council session.
"We are taking all the steps within our limits to find and free the observers who have still not been released."
Meanwhile, Rai News 24 reported that the Italian foreign ministry had announced the release of the OSCE observers. However, the OSCE could not confirm this information, RIA Novosti said.
Churkin also called on UN Secretary General Ban Ki-moon to get involved in the process of ending the military action in eastern Ukraine.
"UN Security Council members must call on Kiev to finally realize the need to consider the interests of all citizens of the country, to immediately end the military operation in the southeast," Churkin said.