Ex-army chief Sisi headed for landslide victory in Egypt's presidential election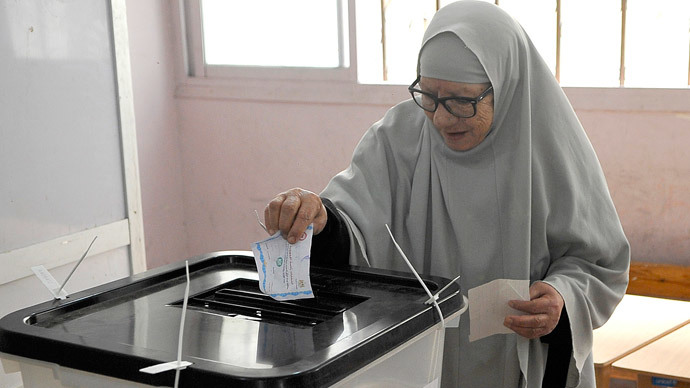 Former army chief Abdel Fattah al-Sisi is on pace to win Egypt's presidential race by a large margin, as he has won 91.8 percent of the votes cast in half of the nation's polling stations, according to judicial sources.
His sole opponent, leftist Hamdeen Sabahi, has won only 3.4 percent of the vote, Reuters reported, as 4.8 percent of votes were declared void.
The abbreviated totals came along after polls closed on Wednesday evening.
During the three-day presidential election vote, an estimated 44.4 percent of 54 million eligible voters turned out, according to a provisional count offered to Reuters by judicial sources. Sisi called for at least 40 million votes, or 80 percent of the electorate, last week.
The low turnout raises questions of Sisi's support and credibility as leader of Egypt one year after his military ousted the democratically-elected Mohamed Morsi and over three years since a popular uprising forced the resignation of longtime autocrat Hosni Mubarak.
Tours on Wednesday of polling stations in Cairo and Alexandria found low levels of voter turnout, according to AFP and Reuters.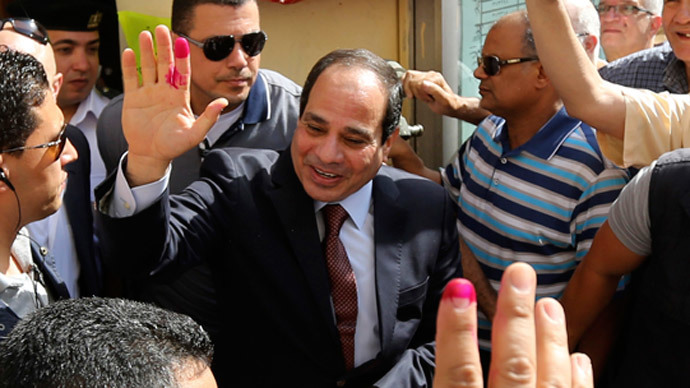 Egyptians say voter apathy points to broad opposition to another military president, discontent over state repression among liberal youth, and widespread calls for boycott among Islamists – much maligned since the coup that toppled their ally, Morsi.
The Muslim Brotherhood, with around one million members, rejected the vote as an extension of the military's strong-arming methods that led to Morsi's departure. In the last year, the group was tagged by the military as a terrorist group. About 1,000 of the Brotherhood's members have been killed in military crackdowns.
The low turnout emboldened some Muslim Brotherhood supporters to speak out.
"Now I can say I am a Morsi supporter," Ahmed Ali, a 28-year-old Cairo shopkeeper, told Reuters.
Young secular activists, including those who supported Morsi's deposition, resent the military's repressive tactics, including the crackdown on protests.
Hossam Moanes, campaign manager for Sisi's rival Sabahi, questioned the legitimacy of Wednesday's reported totals, alluding to potential violations.
"Until yesterday turnout was much lower than what was announced today. Did the percentage suddenly reach 46 percent?" he said.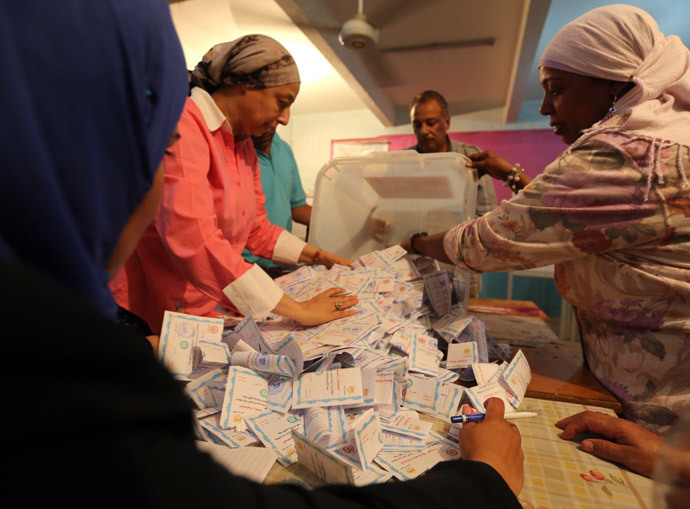 The vote was originally intended to be two days long, but was extended until Wednesday night to allow the "greatest number possible" to vote, according to state media.
"They didn't get enough votes, so they extended polling into a third day," said filmmaker Mohamed Ali Hagar, AFP reported.
"The state is searching for votes," said a front-page headline of Al-Masry Al-Youm, a newspaper that often stands behind Sisi.
Many Egyptians say Sisi has not outlined a clear vision of how his administration would approach the nation's challenges, from large-scale poverty to energy issues and an intensifying Islamist insurgency.
Yet Sisi supporters reveled in Cairo streets Wednesday as results began to emerge.
"We are joyful because Sisi got so many votes, the results will come after an hour, we are here to celebrate," said Kawther Mohamed, who joined in on a celebration in Cairo's Tahrir Square.
"Our country can now only be handled by a military man, we need order," 45-year-old Cairo shopkeeper Samaa said outside a downtown Cairo polling station earlier on Wednesday.
You can share this story on social media: