China urges banks to remove IBM servers over espionage concerns – report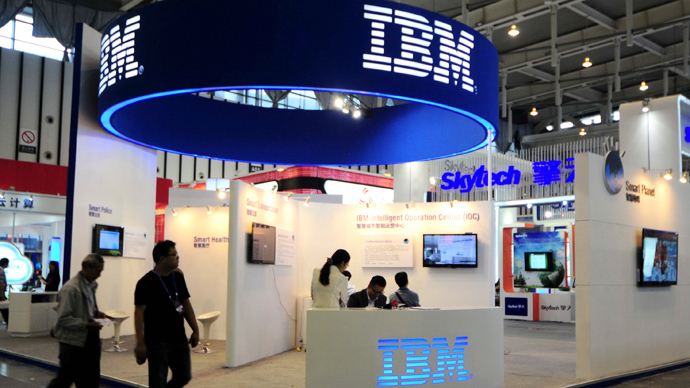 China is calling on banks to stop using IBM servers and replace them with local-made machines amid fears that the nation's financial security might be compromised via the US-based company's servers, a Bloomberg report has revealed.
The new request comes amid an intensified spy scandal between China and the US.
The People's Bank of China and the Ministry of Finance have been asking banks to suspend operation of the International Business Machines (IBM) servers as part of a trial program, while the Chinese government analyzes security risks concerning the use of the servers. Bloomberg cited four sources familiar with the matter.
The complete analysis is to be transferred to a working group on internet security headed by President Xi Jinping.
IBM responded that it is not aware of such a policy. "IBM is not aware of any Chinese government policy recommending against the use of IBM servers within the country's banking industry," Bloomberg quoted IBM spokesman Jeff Cross as saying. "In fact, news reports now state that China's National Development and Reform Commission has not heard of any alleged directive to that effect. IBM is a trusted partner in China and has been for more than 30 years."
The news follows an announcement that state-owned Chinese companies will cease to work with US consulting companies like McKinsey and Boston Consulting Group over fears they are spying on behalf of the US government.
Spy allegations between the US and China escalated after a grand jury in the US indicted five members of the Chinese military with hacking into American computer networks and engaging in cyber espionage on behalf of a foreign government.
The individuals — all allegedly officers of an elite cyber squad within the People's Liberation Army, US federal prosecutors said on Monday — are accused of hacking six American entities and stealing valuable trade secrets and other sensitive business information on behalf of China.
China has labeled Washington's take on cyber-spying as a "complete disregard for moral integrity" and has accused the country of taking advantage of its geopolitical hegemony to spy on others, according to a Chinese report by an internet information body published this week.
Beijing has said Washington's methods involve broad-scale attacks against the Chinese government. It also accused the US of being a "robber playing cop," and more recently said the US is a "mincing rascal" involved in "high-level hooliganism."
China announced last week that it would be investigating providers of important IT products and services following the row.
The country's foreign ministry announced that it is suspending activities of the Sino-US internet working group. Microsoft's Windows 8 operating system was banned from government computers last week.
You can share this story on social media: